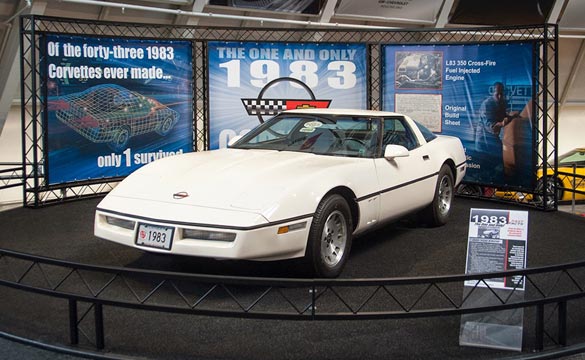 Photo Credit:
National Corvette Museum
The National Corvette Museum (NCM) now has a new exhibit for the world's one and only remaining 1983 Corvette thanks to the generosity of the Dyer Family Foundation. The white coupe was previously displayed in the Skydome mixed in with the other Corvettes, just blending in with its surroundings. Now, the new display for this unique part of Corvette history is featured in the Gateway where, surrounded by print and video media telling its story, it is the center of attention.
Corvette Lovers Create Display
The Dyer family grant is in memory of Calvin and Frances Dyer, both avid Corvette enthusiasts, who personally owned four; a 1986, 1989, ZR-1, and 1997. "We are so appreciative of the Dyer Family Foundation's gift to help further the Museum's mission of celebrating, preserving and educating visitors about Corvette," said Museum Executive Director, Wendell Strode.
Other NCM supporters jumped in to help out with the design and setting up the display. "A truss surrounds the car holding informational graphic panels that help tell the story," said Bob Hellmann, Facilities & Display Manager. "Thanks to Final Finish, Adam's Polishes and Heartland Media who sent representatives to finalize the truss display, as well as cleaning and revitalizing the car, we now have an eye-catching showcase for this historical American sports car."
Delay in 1983 Corvette
In order to understand why there is only one 1983 Corvette, we need a bit of background about vehicle manufacturing. Historically, manufacturers have revealed cars for the new model year in the fall of the preceding year—thus, the introduction of the fourth generation 1983 Corvette (C4) was originally scheduled for October 1982. The C4 was to have all-new chassis and body, and would incorporate the latest technology. Remember, the C3 had been in production for 14 years and technology had made significant progress in that time. According to then Corvette Chief Engineer Dave McLellan, "We were trying to figure out how to bring the car back to date in all aspects," said McLellan. "There was new technology that hadn't been used in Chevrolet or in any automotive yet."
Before any car is cleared for production, the manufacturer makes a series of pre-production, or "pilot line" cars. These are cars made using parts and assembly techniques that will be incorporated into the production cars. The "pilot line" cars are then subjected to further durability and reliability testing to insure that everything works as intended. For the 1983 Corvette, 43 "pilot line" Vettes were made, with 33 going to Corvette engineering for testing and development, and 10 kept at the Corvette Assembly Plant in Bowling Green for further development of manufacturing techniques.
The magnitude of the issues created by the new design and technology were such that they could not be resolved in time for the full production cars to make their October 1982 introduction date. General Motors made the decisions to delay introduction until January 1983 and for the cars to be serialized as 1984 models.
One Pre-Production Corvette Escapes the Crusher
What happened to the 43 "pilot line" cars? As with any non-production test vehicles, GM ordered them to be destroyed. All were sent to the crusher except for VIN 1G1AY0783D5110023 which somehow managed to survive. There are rumors that some canny assembly plant personnel hid the vehicle for years until they receive a commitment from GM that it would not be destroyed. Whether that's fact or fiction, we'll probably never know.
We do know that #023 is now in a position to receive the attention that it so richly deserves for its starring role in a unique part of Corvette lore. We Corvette fans owe a big "thank you" to the Dyer family for making it possible.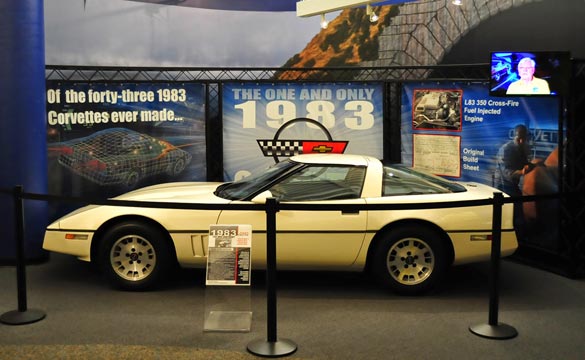 Photo Credit:
National Corvette Museum

Source:
National Corvette Museum

Related:
National Corvette Museum Reports Highest Attendance in 20-Year History
This is the Cutest R8C Corvette Museum Delivery Ever
[VIDEO] Construction Workers Officially Start to Fill in the Corvette Museum's Sinkhole