Tadge Juechter was John McElroy's guest on Autoline After Hours for Thursday, March 12, where the Corvette Chief Engineer spoke about the Z06 and the differences between the various Z06 packages available. McElroy and Juechter were also joined by Todd Lassa, Executive Editor of Automobile magazine and Gary Vasilash, from Automotive Design & Production.
It was interesting listening to Tadge's response to several questions about the Corvette, but perhaps none was as interesting and important as his denial that a mid engine Corvette was in the brand's immediate future.
Juechter's response to the question whether if given "carte blanche" to build a performance super Corvette would it be a front mid-engine or rear mid-engine design. Juechter's response, "We looked at mid-engine as an alternative to this (gesturing to the Corvette Z06 in the studio), for the seventh generation car. We've always said, when the whole car gets better as a mid-engine architecture we would do it. Mid-engine requires a lot of compromises. You look at the elite race programs around the world, they are all mid engine. Purely performance, so if all you care about is purely performance then it makes sense to put the engine in the back. But if you're still talking about a car that is going to be used as a daily driver or long distance tourer as well as on the track and want the car to handle very benignly on the track and have accessible performance there are a whole lot of other things that come into what is the optimum."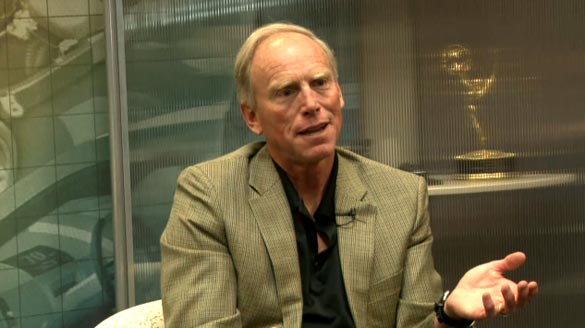 As a follow up Todd Lassa from Automobile magazine asked specifically about a "secret car being written about in the media and the subject of a TV show on NBC Sports last week, allegedly being currently developed called the Zora" Juechter said he'd "have to check that out because I know no such car exists." But Juechter did not deny or confirm Lassa's speculation that if a mid engine car is under development it is likely being done for another division (Cadillac). Juechter said the hosts would have to discuss that with another guest.
The final question was whether a "purist" Z06 was in the future, a model without cylinder deactivation and a fixed roof coupe. Juechter said he'd love to do a "purist" Z06 but was not at liberty to discuss future products.

Rick Tavel writes about automobiles with an emphasis on Corvettes and the hobby in general. You can see his website at Corvetted.

Source:
Corvetted.com

Related:
[VIDEO] The North American Car of the Year Finalists Discussed
[VIDEO] Peter De Lorenzo: How Not To Launch the 2014 C7 Corvette
[VIDEO] Corvette Racing's Doug Fehan on Autoline After Hours