Driving a real-wheel drive 650 hp super car in crappy weather can be done if you follow the rules and play it safe. Unfortunately for this brand new Corvette Z06 with less than 100 miles on the odometer, the owner learned those rules the hard way and now the car sits at the dealer waiting for repairs.
The wrecked Corvette Z06 was first spotted sitting at a Hendrick dealership in South Carolina by a Corvette Forum member named "b4z" who took these two photos. The rear passenger wheel is turned out at an angle and there is body damage to the lower quarter panel. Right away without knowing the details, many forum members offered their take on wrecked Corvette by thinking the back end slammed into a curb: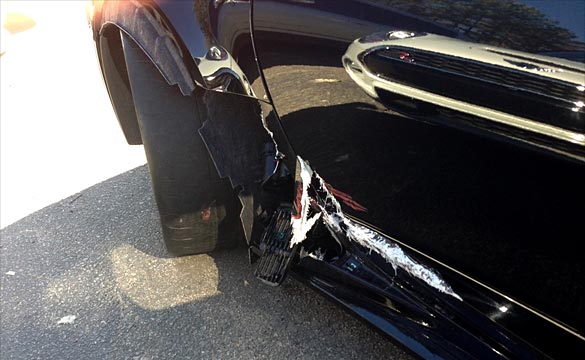 Another Corvette Forum named "soulsea" chimed in with the official details according to one of the sales guys at the dealership:
My salesman there called me to let me know about this Z06. This happened a day or two after purchase (it could even had been the same day I can't remember exactly) and with less than 100 miles. The owner lost it in the rain at around 80mph and slammed the rear wheel into the curb. He was lucky not to flip it.

The cause? He had it in Track mode in the rain and with no experience behind the wheel of a Z06.

So they called me out of courtesy to tell me not to do that. I told them only an idiot would.
The rules are pretty simple when it comes to driving your Corvette Z06 in the rain. The first is to recognize the car's limits. Driving around on Michelin Pilot Sport Cup tires in the rain should be avoided but if you find yourself caught in the rain, put the car into "Weather Mode" while making sure the traction control is engaged and SLOW DOWN.
Even professionals have to follow these rules. Remember this wrecked Corvette Z06 Convertible that lost it on a Michigan highway? The professional driver was working for a third-party engineering company that helps put the miles on these cars for testing and even he got bit.
Look, everybody loves the "Track Mode" because of the display change on the gauges and the deeper sounding exhaust. But there's a time and place for everything and in a storm, track mode is the wrong option. Doing those simple things would have most likely saved this Corvette Z06.
Finally, our last rule to consider would be to "Mod the Driver" by learning how your Corvette Z06 drives and how to react in certain situations. The best way to get that experience is to attend the Corvette Owner's School out at Spring Mountain Motorsports Ranch. There in a safe environment you can learn how to drive your Corvette Z06 safely and with confidence. Oh, and the best part is that yes, you get to engage "Track Mode".

Source:
Corvette Forum

Related:
[ACCIDENT] Corvette Z06 Driver Killed in High Speed Crash in Arkansas
[SAVE THE STINGRAYS] Corvette Stingray Gets Sideways at the Track
[ACCIDENT] 2015 Corvette Z06 Convertible Wrecks in the Rain in Michigan