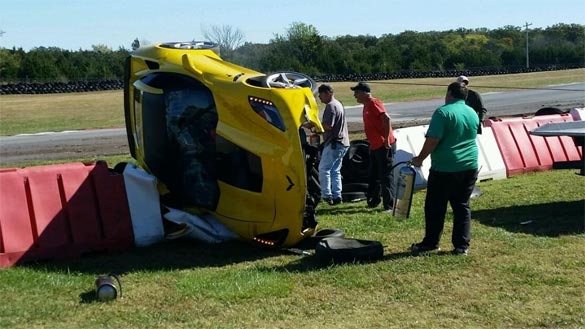 Maybe this driver should have stuck with the fancy technology that Chevrolet has built into the seventh-generation Corvette.
Instead, he turned the traction control off and over corrected as he was drifting around a corner heading into a straightaway.
The Stingray started doing a zig-zag dance, slid sideways into barriers, and wound up on its passenger side, no doubt inflicting thousands of dollars in damage.
Fortunately, unlike some of the disastrous accidents on the roads elsewhere involving fatalities in Stingrays, this driver was reportedly not hurt, but his wallet probably took a beating unless he happened to have special insurance for such activities at the track.
As one poster commented: "The Stingray has one of the best traction control systems extant, with many modes and one of the only ones that can make a driver both quicker and safer on track. Turn off the TC at your own peril."
Another person took the opposite view: "It helps to turn off all the driver aids and just drive the car, raw. To get a feel for it. Sounds like he was doing the 'drift king' and went a little too far……. It happens. I track my car, just have to ease into. Not just go for broke on every lap. Good for him, to actually use a corvette instead of sitting in a parking lot polishing the rims."
What do you think? Is it foolish to drive a Stingray for the purpose it was designed, or just the opposite, foolish to let it sit in a heated garage with nary a piece of dust on it?
On a related note, our friends from NCM Insurance Agency are now offering on-track insurance which will cover your Corvette at HPDEs.

Source:
CorvetteForum.com

Related:
NCM Insurance Now Offers OnTrack Insurance Coverage
[ACCIDENT] 2015 Corvette Z06 Convertible Wrecks in the Rain in Michigan
[ACCIDENT] C7 Corvette Stingray Convertible Hits a Parked Car in California