If you like the design of the new seventh-generation Corvette Stingray that debuted in 2014, then you may very well like the changes that are apparently coming to the rest of Chevy's next generation vehicles.
That's the word from Ed Welburn, chief of General Motors global design.
The resemblance won't beat you over the head, but Welburn says subtle design elements of the Corvette will be there in the rest of Chevy's lineup.
"As Malibu and Cruze and Volt come to market, you'll be able to see a subtle link between some of the form vocabulary for all of them and Corvette," Welburn told Automotive News last week.
That's good news for long-time Chevy supporters like this writer, who had to drive his mom's 2007 Impala earlier this year (instead of his own 1997 Corvette) and commented several times on the way that the Impala blended seamlessly with the other boring vehicles (not all from Chevy, by the way) on the road.
Maybe Chevrolet is headed in the right direction now, though. Welburn says designers want to bring some of that Corvette excitement into the rest of the Chevy lineup, including some that will be on the market as soon as next year.
"I always look at the hood of the Corvette and the sectioning, the way it's taut, very lean, very sporty," Welburn said. "That will be a part of really everything we do for Chevrolet."
Love it or hate it, but the rear end of the Stingray featuring the hexagonal taillights will also be hinted at "in all other Chevrolets, I think in a very positive way," he said.
Chevrolet global chief Alan Batey also delivered some good news for Chevy fans in a November interview when he said, "Stunning design — that's something we really want to push."
Based on the designs of the Stingray and the Camaro, we know what Chevy is capable of. It's good to hear the carmaker's leaders using this in a positive way to influence other models.
"In the past," Welburn said, "we never really took advantage of iconic vehicles like Camaro and Corvette the way we are today."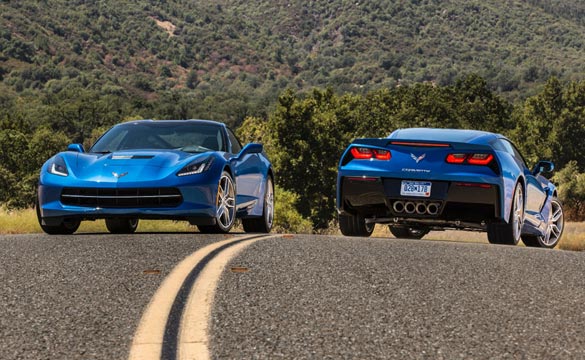 Source:
Automotive News

Related:
Gran Turismo 6 to Feature the Corvette Vision GT Concept
Three GM Designers to Paint a Corvette Stingray During a Fundraising Gala at a Detroit Museum
[VIDEO] Ed Welburn Shows Off the New 2015 Corvette Z06 to Jay Leno in Monterey