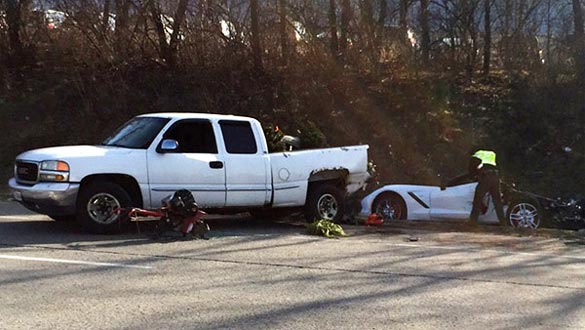 Photo Credit:
WLWT.com
A man stopped on the side of I-71 North near Deerfield Township, Ohio is fighting for his life after he and his pickup truck were struck by a white 2015 Corvette Stingray on Friday morning.
Troopers said that Shawn Steinke, 47, of Lebanon, Ohio was checking on the load in his GMC Sierra on the berm of the interstate when the Corvette driver – 49-year-old Kevin Pong of South Lebanon, Ohio – lost control of his vehicle and struck the truck and Steinke, tossing him into the road where he was run over.
Steinke suffered life-threatening injuries and was transported to Bethesda North Hospital first, then transferred to UC Medical Center.
Meanwhile, the Corvette driver was trapped in his car and, after being extricated by rescue workers, was flown to Miami Valley Hospital for treatment of serious injuries, despite having his seatbelt on.
The crash occurred about 9:30 a.m. Friday, Dec. 12 on a northbound entrance ramp from Fields Ertel Road in Warren County.
That portion of northbound I-71 remained closed for about 45 minutes while the ramp was closed for more than four hours, a spokesman for the Ohio Highway Patrol said.
The investigation into the crash continues as officials check to see if impairment or speed were to blame.
Photo Credit:
WLWT.com

Sources:
WLWT.com and WCPO.com


Related:
[ACCIDENT] C6 Corvette Driver Hits a Pedestrian in Jacksonville
[SAVE THE STINGRAYS] This Yellow Corvette Stingray was Cut in Half After a Huge Crash
[ACCIDENT] 2015 Corvette Z06 Convertible Wrecks in the Rain in Michigan