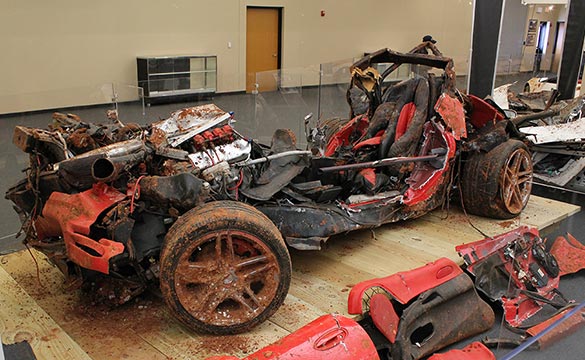 The sinkhole at the National Corvette Museum has been covered extensively by reporters from around the world.
But a CNN.com report out last week has some new information that we haven't heard before.
CNN interviewed renowned Corvette artist Dana Forrester, who's also lead Corvette restoration member of the museum's board of directors, and he has some interesting ideas about what to do with the sinkhole.
When it first occurred back in February, the notion was to repair the damage to all eight cars as quickly as possible and fix the sinkhole so no one would ever know it had even occurred.
A coverup of history, literally?
But after attendance at the museum spiked 50 percent in March, thanks to the overwhelming interest in the sinkhole by the general public, that thinking is beginning to change.
As Forrester puts it, the sinkhole and the damaged Corvettes are now "part of the museum's history – and part of Corvette's history." Why not embrace it?
Some folks have suggested leaving the sinkhole open as a permanent exhibit, perhaps even building stairs to allow visitors to walk down into it. Others want the hole filled and all damage repaired.
"I personally lean toward securing the hole — but not filling it — and creating something like a bridge across it so people can actually look down into it," Forrester says.
It's all part of that human nature to want to see a disaster up close.
"It's the rubberneck effect," the museum's Katie Frassinelli describes it.
Viewpoints are varied about what to do about the damaged cars themselves.
"I think they should do it the right way and deliver a finished product like it wasn't damaged at all," said longtime New York Corvette owner Frazer Bharucha, 47, of the Long Island Corvette Owners Association. "When it's all said and done, it should look the way it was when it first entered the museum."
On the other hand, Tom Peters, GM's director of exterior design for performance cars, points out that the vehicles must be respected, saying they have "souls," "character," "being." If too many parts are restored, is it still the same car that went down into the hole or just a copy that looks like it? Peters worries that replacing too many key original parts might result in "recreations" and not restorations.
"You have to ask, what is it going to take to bring some of these cars back to being authentic?" Peters says. "It's just terrible, but the last two they pulled out are basically pancakes."
He notes that it's too soon to know for sure but "maybe they're better off just leaving them as they are."
We should know soon what the plans are since GM and Corvette Museum officials will hold a meeting of the brains sometime next month to discuss their next moves.
It's been said that any publicity is good publicity, even if it's bad. In this case, more people than ever are talking about Corvettes, and that's good.
As Forrester put it: "Millions of people in the Corvette culture have pulled together over this. Now more people outside the community are discovering how special this culture really is."

Source:
CNN.com

Related:
Corvette Museum Receives Donation of a 1993 40th Anniversary Corvette
[VIDEO] Behind the Scenes of the Corvette Recovery Operation at the National Corvette Museum
Corvette Museum Making the Best of the Sinkhole Situation