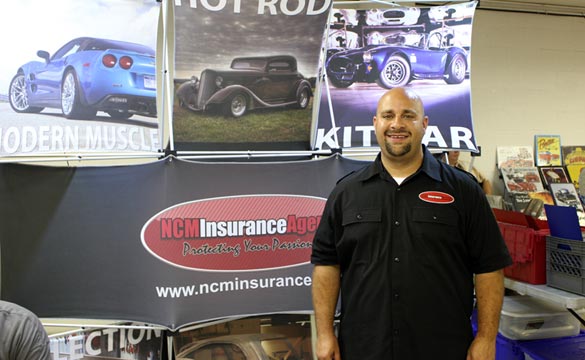 CorvetteBlogger spoke with Adam Boca of the National Corvette Museum's Insurance Agency at the 2013 Corvettes at Carlisle show. Adam talks about differences in agreed value vs stated value as well as what it takes to get a policy written.
Adam tells us that not all collector car insurance policies are the same. NCM Insurance uses an agreed value vs the other two methods, Stated and Actual Cash Value. And because the NCM knows Corvettes as well as they do, they can typically streamline the process of writing the policy.
This was important to me when I approached Adam earlier this year about insuring my classic Corvette. First, I asked for a quote for my 1966 Corvette which I got almost immediately via email. I told Adam the agreed value I wanted to insure it for and he say "we can do that!". No appraisal was needed, so I faxed over my previous insurance policy's docs page and within just a few hours my 1966 Corvette was covered for the year. I had a better insurance policy tailored for my needs for an agreed value and it came in at a lower annual cost than my previous policy.
Best of all, by using the NCM Insurance Agency, commissions from my policy went straight back to the NCM to support their mission.
Look, as Corvette owners we all need insurance. So why not choose the Corvette experts at the NCM Insurance Agency to insure your Corvette dream. Visit them on the web at www.ncminsurance.com or call them at 877-678-7626.
Adam and his merry gang of underwriters from the NCM Insurance Agency will also be at Mid America's Corvette Funfest tomorrow and through the weekend so make sure you stop by and get a free quote. If you're really serious, bring a copy of your current insurance policy and watch Adam work his magic to get you a better insurance policy at a most likely lower rate.

Related:
[ACCIDENT] 2014 Corvette Stingray Hit By A Lincoln Town Car
Truck Carrying Four Corvettes to Bloomington Gold Crashes into Low Bridge
[ACCIDENT] Corvette Burns to the Ground after Rear-Ended by a Pickup Truck