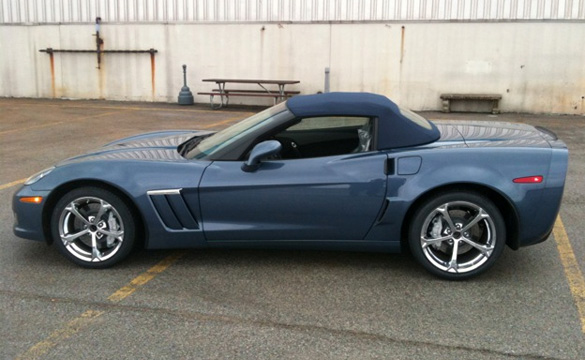 Last October, GM announced that it would be introducing a new convertible top color for Corvettes. Well that day is here as we have pictures of the first 2011 Corvette Grand Sport convertible made with the new Blue soft top. This 2011 SuperSonic Blue Corvette not only features the first blue convertible top, but open the doors and you see the first Corvette to have the blue accent stitching.
The Blue top (RPO 34T) joins Black, Beige and Gray as available options for the convertible top color on 2011 Corvette Convertibles and Grand Sport Convertible models. Last year, Black (41T) was selected by 77% of buyers. Beige (35T) was selected by 16% of buyers while only 7% selected the Gray (37T) option.
The Blue accent stiching (RPO 37S) is a $395 option and it joins Red (38S) and Yellow (36S) as available colors on Corvettes. The blue stitching is available only on Titanium or Ebony 4LT packages. Yellow is offered on Ebony 4LT interiors while Red is available for all interiors with the 4LT, 3LZ or 3ZR packages. The accent stitching is a new option for Corvette buyers in 2011.
Dave Salvatore from Kerbeck Chevrolet shared the pics with us this morning. He tells us the Corvette is still at the factory undergoing inspection and if it passes Quality Control, it will be shipped to Kerbeck Corvette in Atlantic City. Dave mentions that in addition to the Supersonic Blue Corvette shown here, an Arctic White with Blue Convertible is also being produced and will also be making the journey from Bowling Green to Atlantic City.
If you are interested in acquiring your very own 2011 Corvette Convertible, please give Dave and Kerbeck the opportunity to earn your business. There is a reason Kerbeck sells more Corvettes than anyone else. Call Dave at (609) 344-2100 or drop him a line at [email protected]. Kerbeck is located on the web at: www.Kerbeck.com. Make sure you tell him CorvetteBlogger sent you!

Source:
Dave Salvatore @ Kerbeck.com
Related:
2011 Corvette Production Statistics (So Far) by Model, Color
Final 2010 Corvette Production Statistics