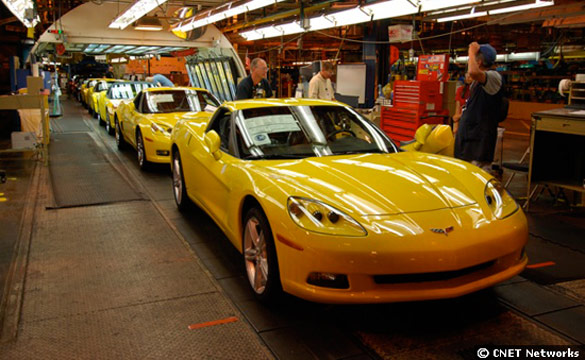 Production of the 2010 Corvette model has wrapped up and GM has released the final production statistics for the 2010 Corvette model year. The final count of Corvettes produced for MY 2010 is 12,194. That's a decrease of 28.1% from 2009's 16,956 production and a whopping 65.5% off the 35,310 Corvettes produced in 2008.
Many will make hay out of that decrease, saying its been almost 50 years (1961 – 10,939) since Corvettes were produced in so few numbers. You won't find us complaining here as we believe 2010 was a banner year for Corvette which included the return of the Grand Sport and one of our favorite new options – launch control!
The Grand Sports were very popular in their inaugural year making up 49.6% of total Corvettes produced. The Grand Sport Coupe was the most popular model at 3,707 units (30.4%) while the regular Corvette Coupe was second at 3,054 units (25.1%). The Z06 was the least popular Corvette sold with just 518 units making up 4.3% of production. The ZR1 outsold the Z06 in its second year of production by 3 to 1. 1,577 supercharged Corvettes left Bowling Green for a total of 12.9% of Corvette production.
As far as colors, the most popular single color is Black at 24%. Torch Red is second with 18.4% and when combined with Crystal Red's 14.1%, the two reds total 32.5%.
Other than colors, the numbers we received from GM were condensed into Coupe, Convertible, Z06/ZR1, although we are able to view certain model-specific RPOs like the Grand Sport's Z51 or the 3ZR package for the ZR1.
Here are the 2010 Corvette Production Statistics from GM:
| | | | | |
| --- | --- | --- | --- | --- |
| Corvettes Produced | Amount | Percent | | |
| | | | | |
| Coupes | 3,054 | 25.1% | | |
| Convertibles | 1,003 | 8.2% | | |
| Grand Sport Coupes | 3,707 | 30.4% | | |
| Grand Sport Convertibles | 2,335 | 19.2% | | |
| Z06 | 518 | 4.3% | | |
| ZR1 | 1,577 | 12.9% | | |
| | _______ | _______ | | |
| Total | 12,194 | 100% | | |
| | | | | |
| | | | | |
| Exterior Colors | Total | Coupe | Conv | Z06/ZR1 |
| | | | | |
| 10U Artic White | 966 | 500 | 282 | 184 |
| 17U Blade Silver | 974 | 596 | 233 | 145 |
| 41U Black | 2,929 | 1,668 | 726 | 535 |
| 45U Velocity Yellow | 694 | 349 | 209 | 136 |
| 57U Cyber Gray | 1,699 | 955 | 357 | 387 |
| 70U Torch Red | 2,249 | 1,206 | 772 | 271 |
| 85U Jetstream Blue | 969 | 552 | 211 | 206 |
| 89U Crystal Red | 1,714 | 935 | 548 | 231 |
| | | | | |
| | | | | |
| Convertible Top Colors | Total | Coupe | Conv | Z06/ZR1 |
| | | | | |
| 35T Beige | 533 | 0 | 533 | 0 |
| 37T Gray | 228 | 0 | 228 | 0 |
| 41T Black | 2,555 | 0 | 2,555 | 0 |
| | | | | |
| | | | | |
| Interior Colors & Options | Total | Coupe | Conv | Z06/ZR1 |
| | | | | |
| 023 Red | 253 | 124 | 55 | 74 |
| 026 Ebony/Red | 610 | 364 | 246 | 0 |
| 193 Ebony | 5,617 | 4,105 | 1,296 | 216 |
| 195 Ebony | 1,685 | 199 | 249 | 1,237 |
| 24I Ebony/Sienna | 98 | 21 | 26 | 51 |
| 245 Ebony/Sienna | 98 | 21 | 26 | 51 |
| 313 Ebony/LT Cashmere | 952 | 491 | 437 | 24 |
| 315 Ebony/LT Cashmere | 147 | 33 | 51 | 63 |
| 316 Ebony/LT Cashmere | 313 | 180 | 133 | 0 |
| 785 Ebony/DK Titanium | 818 | 194 | 240 | 384 |
| 843 Ebony/LT Titanium | 422 | 243 | 133 | 46 |
| 846 Ebony/LT Titanium | 1,279 | 807 | 472 | 0 |
| D30 Color Override | 86 | 22 | 47 | 17 |
| 0B1 Embroidery Cross Flags | 1,679 | 1,033 | 646 | 0 |
| | | | | |
| | | | | |
| Equipment Packages | Total | Coupe | Conv | Z06/ZR1 |
| | | | | |
| 1LT (Coupe & Conv) | 1,936 | 1,785 | 151 | 0 |
| 1LZ (Z06) | 54 | 0 | 0 | 54 |
| 1ZR (ZR1) | 107 | 0 | 0 | 107 |
| 2LT (Coupe & Conv) | 1,045 | 831 | 214 | 0 |
| 2LZ (Z06) | 193 | 0 | 0 | 193 |
| 3LT (Coupe & Conv) | 5,762 | 3,458 | 2,304 | 0 |
| 3LZ (Z06) | 193 | 0 | 0 | 193 |
| 3ZR (ZR1) | 1,426 | 0 | 0 | 1,426 |
| 4LT (Coupe & Conv) | 972 | 431 | 541 | 1 |
| | | | | |
| | | | | |
| Transmissions | Total | Coupe | Conv | Z06/ZR1 |
| | | | | |
| MH3 6-Speed Manual (ZR1) | 1,577 | 0 | 0 | 1,577 |
| MN6 6-Speed Manual | 5,281 | 2,341 | 845 | 2,095 |
| MX0 6-Speed Auto Paddle | 6,913 | 4,420 | 2,493 | 0 |
| MZ6 6-Speed Manual – GS | 2,148 | 1,468 | 680 | 0 |
| | | | | |
| | | | | |
| Wheels | Total | Coupe | Conv | Z06/ZR1 |
| | | | | |
| PYC GS Aluminum | 815 | 611 | 204 | 0 |
| PYD GS Comp Gray Alum | 534 | 390 | 144 | 0 |
| PYE GS Chrome Aluminum | 1,248 | 1,035 | 213 | 0 |
| QG6 Base Aluminum | 1,248 | 1,035 | 213 | 0 |
| QG7 Polished Aluminum | 9 | 9 | 0 | 0 |
| QX1 Comp. Gray Aluminum | 183 | 157 | 26 | 0 |
| Q10 Z06 Base | 65 | 0 | 0 | 65 |
| Q44 Z06 Comp. Gray | 84 | 0 | 0 | 84 |
| Q6A ZR1 Aluminum | 107 | 0 | 0 | 107 |
| Q6B ZR1 Chrome | 1,347 | 0 | 0 | 1,347 |
| Q6J ZR1 Comp Gray | 123 | 0 | 0 | 123 |
| Q76 Z06 Original Chrome | 82 | 0 | 0 | 82 |
| Q8A Z06 Chrome | 286 | 0 | 0 | 286 |
| Q9V Forged Chrome | 2,617 | 1,853 | 764 | 0 |
| | | | | |
| | | | | |
| Grand Sport Options | | | | |
| | | | | |
| Z15 Grand Sport Heritage | 1,531 | 816 | 715 | 0 |
| Z16 Grand Sport | 6,052 | 3,707 | 2,335 | 0 |
| 17A GS Stripes – Silver | 740 | 395 | 345 | 0 |
| 40A GS Stripes – White | 198 | 76 | 122 | 0 |
| 75A GS Stripes – Red | 336 | 207 | 129 | 0 |
| 90A GS Stripes – Med Gray | 257 | 138 | 119 | 0 |
| | | | | |
| | | | | |
| Other Options | Total | Coupe | Conv | Z06/ZR1 |
| | | | | |
| C2L Dual Roof Pkg | 1,050 | 1,050 | 0 | 0 |
| F55 Magnetic Select Ride | 2,334 | 463 | 294 | 1,577 |
| NPP Dual Mode Exhaust | 6.268 | 3,964 | 2,304 | 0 |
| UE1 OnStar | 11,988 | 6,653 | 3,317 | 2,018 |
| US8 Single CD/Radio | 3,594 | 2,811 | 668 | 115 |
| US9 Multi CD/Radio | 1,905 | 1,289 | 530 | 86 |
| UV6 Heads Up Display | 9,152 | 4,098 | 2,959 | 2,095 |
| U2K XM Satellite Radio | 11,988 | 6,653 | 3,317 | 2,018 |
| Z52 Dry Sump Pkg | 1,468 | 1,468 | 0 | 0 |
| | | | | |
| | | | | |
| Exports | Total | Coupe | Conv | Z06/ZR1 |
| CT1 Belgium | 48 | 0 | 19 | 29 |
| CU7 Kuwait | 12 | 10 | 0 | 2 |
| CU8 Saudi Arabia | 31 | 20 | 0 | 11 |
| CV3 Mexico | 8 | 8 | 0 | 0 |
| CV5 Japan | 69 | 43 | 2 | 24 |
| CV6 Chile | 1 | 0 | 0 | 1 |
| CW2 Mid-East Gulf States | 37 | 27 | 0 | 10 |
| Z49 Canada | 348 | 148 | 107 | 93 |
| | | | | |

Source:
Bowling Green Assembly Plant
Photo Credit: CNET Networks
Related:
2010 Corvette Production By The Numbers (So Far)
GM Releases Prices for 2011 Corvette