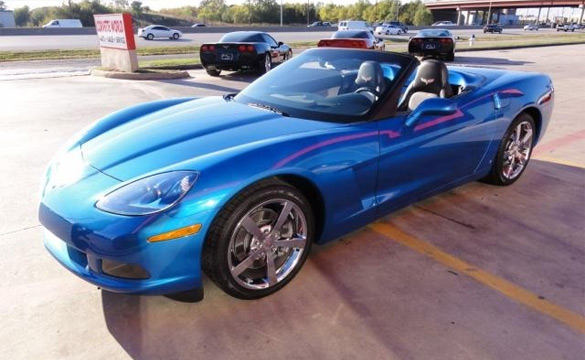 Corvette Conti says that 2011 will be the last year for Jetstream Blue Metallic (RPO 85U). GM will phase the color out early and has already issued a final order date for those that still wish to build a 2011 Corvette in Jetstream Blue. The last Dealer Order submission process to submit orders with Jetstream Blue will occur during the cycle that starts Thursday, March 3, 2011, and ends Tuesday, March 8, 2011.
Over the years, GM has used a variety of blues on Corvettes. There is also a pattern of offering a lighter blue for a couple years and then going to a darker blue and then back to a lighter blue. Early C5 Corvettes were offered in Nassau Blue (lighter blue) and then later, GM offered Corvettes in Navy Blue Metallic and Electron Blue. On the C6, Jetstream Blue replaced the darker LeMans Blue that was a favorite among Corvette buyers.
If this pattern holds true, we may see a darker hue of blue back on the color palatte for 2012. We dug through some different shades of dark blue colors used historically on Corvettes to get your opinion of what you think the new blue should be.
Here are some of our favorite dark blue Corvettes:
1966 Laguna Blue
1970 Bridgehampton Blue
1995 Admiral Blue
1999 Navy Blue Metallic
2005 Le Mans Blue
The one constant in this hobby is that everybody has an opinion on colors. What shade of blue would you like to see in 2012?

Source:
Corvette Conti and CorvetteImages.com
Related:
First Look: New Convertible Top Color and Interior Stitching for 2011 Corvette
New Paint Chips Unveiled for 2008 Corvette