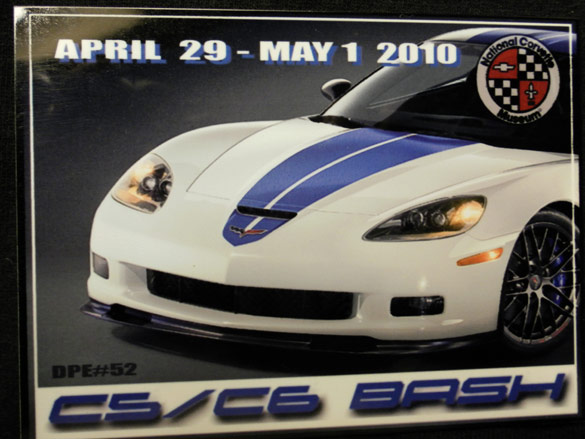 Check out the design for this year's dash plaque and name tag which was passed out to all attendees here at the Corvette Museum's C5/C6 Bash. Notice anything interesting?
It looks like a 2011 Corvette Z06 Carbon Edition in Arctic White with a black front splitter, headlights and rear view mirrors. You can also see the Competition Gray wheels with the orange Z06 Carbon stickers. The twin blue stripes go across the hood and continue over the roof.
The Carbon Edition commemorates the 50th anniversary of the #3 Briggs Cunningham Corvette that won its class in the 1960 24 Hours of Le Mans. Coincidently, the Le Mans 1960 Corvette was also white with twin blue stripes.
GM's Corvette Team will introduce the 2011 Corvette tomorrow at 2:30 CST. Expect to see this Corvette and a whole lot more. Wink wink!

Related:
[PICS] First Look: The 2011 Corvette Z06 Carbon Limited Edition
Heading to the National Corvette Museum's C5/C6 Bash