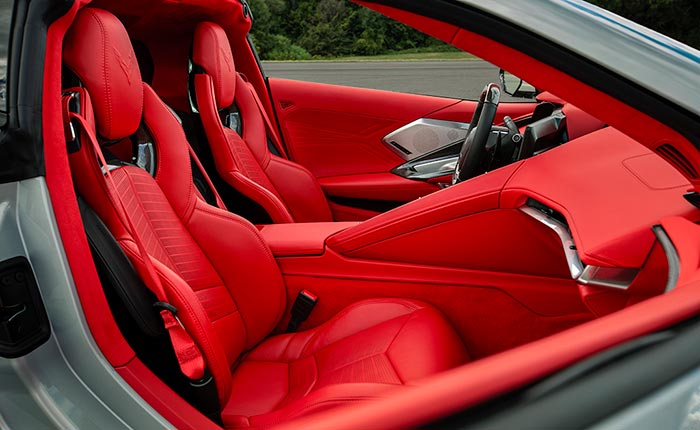 Photo Credit: Chevrolet

Last week we featured a video of Corvette Chief Engineer Josh Holder discussing the 2023 Corvette Z06 at Petit Le Mans. He spoke for about 30 minutes on a variety of subjects related to America's newest supercar.
During his Q&A with Corvette enthusiasts, he mentioned a couple of updates for the 2023 Corvette model year with the newly announced Adrenaline Red replacing Morello Red as an interior option, and he also stated the Z06's interior would have some new stitch patterns to "enhance and differentiate" the new model from the existing C8 Corvette Stingrays.
It turns out that the new interior stitching was hiding in plain sight as one of the interior photos from the Z06 reveal shows the new stitching on the door panel. Above you can see the stitching on the door panels of the 3LZ Dipped Adrenaline Red interior. As of yet, there is no word on whether this stitch pattern comes on the lower 1LZ and 2LZ interior trims, so I pulled up the 2023 Z06 visualizer and the 1LZ and 2LZ interiors do not show the stitching.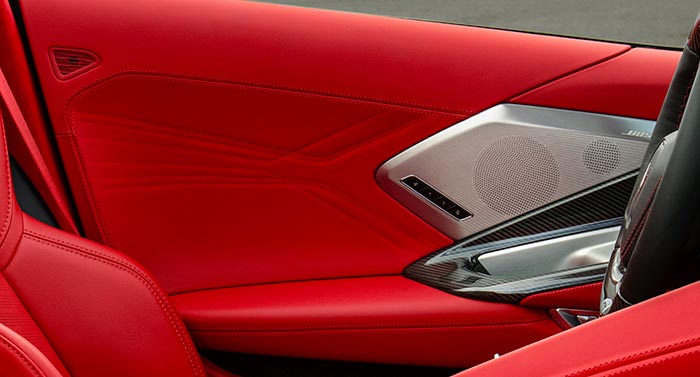 You can see the comparison to the Stingray's door panel below and I selected the 3LT Natural Interior to show the difference:

The stitch pattern is also supposedly carried over to the interior roof stitching as well. Other than some of the driving videos, the removable roof panels have been taken off the Z06 show cars so we haven't yet to be able to see it yet. However, we can see some similarities of the door panel stitch patterns on the Stingray's 3LT removable roof which also features custom stitching. This roof is from a 3LT Tension Blue Stingray Coupe (thanks John!):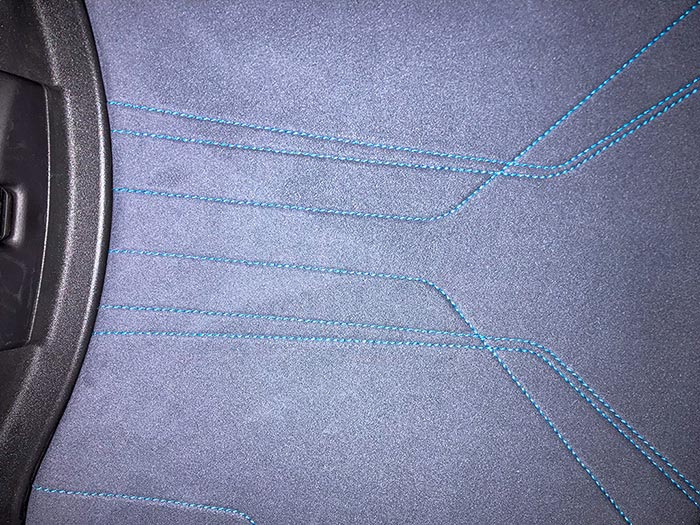 Overall, we are liking the look of the door panel stitching and when shown side by side with the Stingray's plain design, it's a nice improvement. We'll continue to look for other examples of the Z06's custom stitching, and if you see something, say something!

Related:
[VIDEO] Chevy's Josh Holder Talks and Answers Questions About the 2023 Corvette Z06 at Petit Le Mans
[VIDEO] 2023 Corvette Z06 Captured at the CMA Awards with Exhaust Revs and More!
The 670-HP LT6 V8 Is Shown in the 2023 Corvette Z06's Start-Up Screen Animation