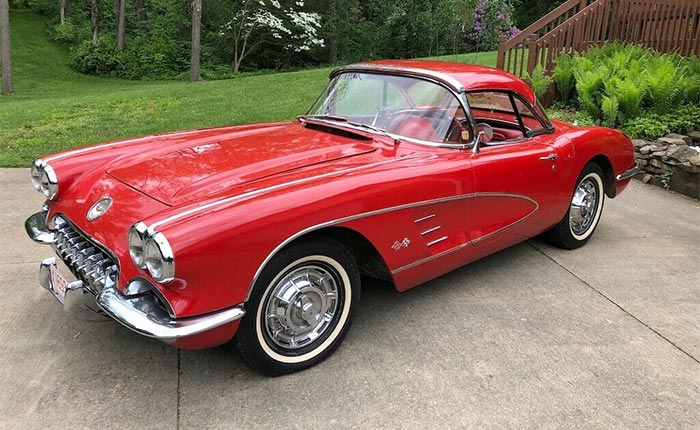 This 1959 Corvette convertible up for sale through midnight Sunday on eBay appears to be a true low-mileage survivor barn find.
Surprisingly, only two bids – for $50,100 – has been placed so far on this Roman Red Corvette that reportedly was last registered in 1974 and then sat in storage until 2016.
That's when the current owner – who says he has had personal knowledge of the car starting in the early 1960s – bought it from the original owner's family with less than 33,000 miles on the odometer.

He says the paint is original, with a few minor dings visible in photos here and there and a crack under the exhaust exit on the driver's side. Not bad for an unrestored 62-year-old car, and it appears these flaws could be easily repaired by a new owner if he chooses to do so.
The transmission and rear end have been replaced with period-correct cases, including all new mechanicals, he adds.

A professional assessment of the car done when the odometer read 32,765 miles says the 283/230 horsepower V8 engine is original and numbers matching, the frame and undercarriage are in very sound original condition, and the convertible and hardtop both are in very good condition.
Only 9,670 Corvettes – all convertibles with a base price of $3,875 – were produced at the St,. Louis factory for the 1959 model year, which was similar to the '58 except the appearance was cleaned up with the removal of the simulated hood louvers and twin chrome trunk spears. The '59s also had redesigned instruments to make them easier to read, and the T shift handle with positive reverse lockout was introduced on four-speed manuals to prevent the driver from shifting into reverse by mistake.

We're surprised this car hasn't drawn more interest, but maybe there'll be a flurry of activity in the closing hours of the auction over the weekend.

Source:
eBay

Related:
Corvettes for Sale: 1959 Corvette Racer with Ties to Shelby and the Scaglietti Corvettes
[PICS] Kevin Hart Pays $825K for a 'Mint' 1959 Corvette Restomod at Barrett-Jackson Scottsdale
[VIDEO] Lost for Decades, the '59 Corvette From Animal House Is Coming Up For Sale