Photo Credit: Universal Pictures

Check out this interview with Paul Smith, owner of the 1959 Corvette that had a starring role in the cult classic "Animal House" movie back in 1978.
After filming wrapped, Smith took the Corvette back to his house, and it's been in his garage gathering dust ever since.
That is, until now.
This historically significant Corvette is available for sale, with an auction planned on Bring a Trailer in mid-April, though the consigners, Eyes on Classics, says they're open to offers in the meantime.

Other than its connection to the film, though, this Corvette doesn't really have much going for it. While it's not been driven for decades, it would need a new paint job and interior and other freshening up mechanically and cosmetically to bring it back to its full glory. But it still presents well in its current state, so perhaps it would be better off being a display at a place like the National Corvette Museum where it would make a pretty neat exhibit in its current survivor condition.
In the interview, it's obvious that Paul didn't think "Animal House" would still be in the news 43 years later. After all, at the time the movie was being filmed, its star John Belushi was just coming into his own after debuting on "Saturday Night Live" in 1975. Sadly, four years after the movie's release, Belushi would be dead of a drug overdose.

"Animal House" drew mixed reviews at the time of its release, though Time magazine and critic Roger Ebert did term it one of the year's best. It actually went on to become one of the most profitable movies of all time, having grossed more than $141 million in theaters and video rentals after being filmed on a meager budget of $2.8 million.
That budget included a whopping $400 to Smith for a month-long rental of his 1959 Corvette. Another Corvette from a different owner also served as a backup for additional footage and promotions.
In his younger days, Smith was a successful racer and NHRA champion, earning quite a reputation in his hometown. After retiring from that gig, he was going to parlay that fame and car knowledge into a career as a salesman at Bob Cochran Auto Sales but that didn't work out after Smith refused to cut his hair as requested.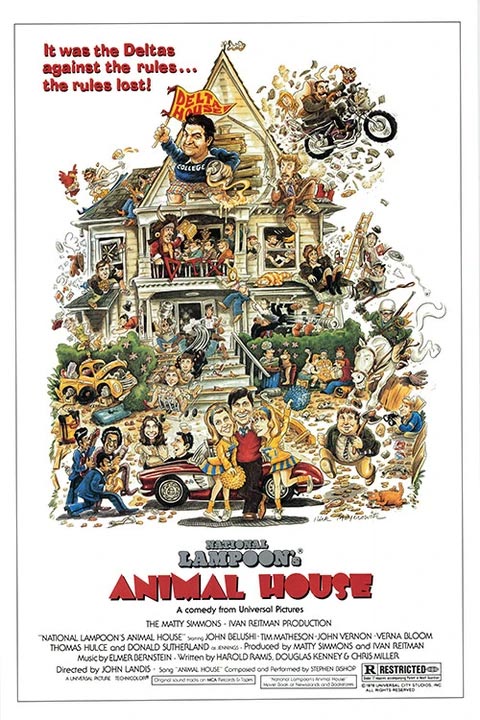 While he was at the dealership, however, he did notice two Corvettes sitting on the lot, including this red one.
"My wife liked the red one," Smith recalls, though he himself didn't like the mag wheels on it. "The other one had stock wheel covers on it, so in talking to the guy there at the car lot, I decided I'd buy that red one if we could switch wheels on those two cars. I kinda gave it to my wife for her understanding my traveling around and all that kind of stuff. That was how I got the car."
But the Corvette never was really Smith's kind of vehicle, so "I can't ever remember driving it, to be honest," he said.
After leaving his racing career, Smith helped in transportation for movies. When he heard Universal Pictures was getting ready to shoot "Animal House" as a 1962-era film at the University of Oregon, he helped find time-appropriate vehicles to be used in the flick and then offered his 1959 Corvette to be used for Delta's ladies man, Eric "Otter" Stratton (played by Tim Matheson).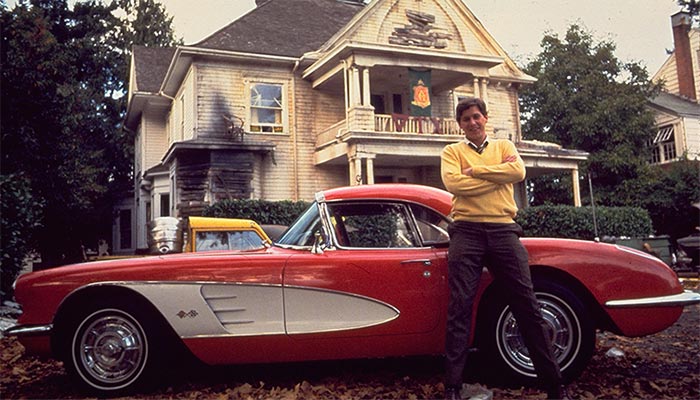 In the movie, the Corvette is the first thing Pinto and Flounder see as they approach Delta House for the first time. Later, Otter drives the car to the Rainbow Motel on Old Mill Road where he's beaten up by guys from the Omega House.
Smith was too busy helping keep the transportation department running smoothly to pay much attention to the filming, he says now.
"Oh yeah, it just wasn't very important for me to do that," he said. "If I had something else to do, that's what I did. I didn't watch an awful lot of the filming at all. [I] had to stay with the head guy – the driver captain – they want to snap [their] fingers and they wanted you to be there – didn't want to have to go hunting for you."
Smith says it was a long time "after they'd cleaned up and left town before I ever saw the movie in its complete [state]. The movie was so zany that it wasn't of great interest to me."

Still, he admits it was "exciting" to see his Corvette on the screen. "I just wish those skinny white walls were wide white walls," he quipped.
Chadley Johnson of Eyes on Classics says the iconic photo of Belushi sitting on the front fender, with other cast members around him, "almost looks like a celebration photo – like the movie's done, we think it's gonna be a hit, let's all sit on the Corvette and take a picture."
"I think that's probably true," Smith agrees. "I wasn't there when that picture was taken, but I think that was exactly what the deal was."
Now Smith will soon be able to do some celebrating of his own, after a successful auction of his old Corvette.

Source:
Corvette Forum

Related:
[VIDEO] This Fast and Furious Stunt with a C2 Corvette Cost $25 Million to Pull Off
2014 Corvette From Mark Wahlberg Movie 'Spencer Confidential' is For Sale on Craigslist
[VIDEO] 'The Batman' to Feature a 1963 Corvette as Bruce Wayne's Daily Driver