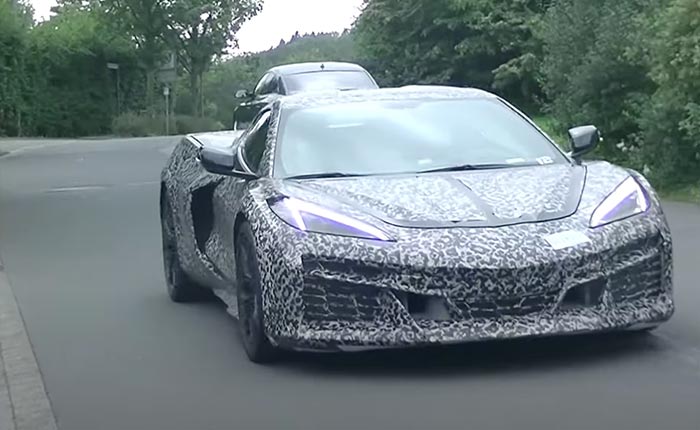 Isn't it amazing how much we apparently already know about a car General Motors hasn't even acknowledged exists yet?
The latest intel on the upcoming hybrid Corvette believed to be named the E-Ray comes to us today from GM Authority, who are reporting the size of the tires to be used on the car. The website also is predicting when the E-Ray will make its debut, too.
Up front on the new hybrid Corvette will be 275/30R20 tires, while 345/25R21s will anchor the back. Like the base Stingray, these tires will be Michelin Pilot Sport All Season 4 run-flats that can be used year-round and provide gobs of grip in both dry and wet conditions. GM Authority also predicts E-Ray customers will be able to add even-stickier Michelin Pilot Sport Cup 2 tires made for ultimate dry traction performance suitable for track day driving with long tread life, even under high-performance driving conditions.
For reference, the base and the Z51 Stingrays run the same size Michelins (245/35R19 in front and 305/30R20 in back) – but with the Pilot Sport All Season 4 on the base and the Pilot Sport 4S summer-only high-performance model best suited for dry conditions on the Z51.
GM Authority believes the E-Ray will make its debut a few months after the already-confirmed Z06 that will be officially unveiled by Chevrolet later this year.
The website believe the larger tires on the E-Ray indicate it will be using the same widebody layout as the 2023 Z06, but the E-Ray will apparently be the first Corvette ever to feature all-wheel drive necessary to put its predicted 600 horsepower and 575 lb-ft of torque to the ground. In addition to the base Stingray's 495-horsepower LT2 gasoline engine that will drive the rear wheels, the E-Ray is also expected to have four 1.94-kWh batteries and a front-mounted electric drive unit for the front wheels.

Source:
gmauthority.com

Related:
[SPIED] C8 Corvette Prototype Mule in Ohio
MotorTrend Says E-Ray Corvette Will Be Quicker than the C8 Z06
[SPIED] C8 Corvette E-Ray Prototype Testing on the German Autobahn