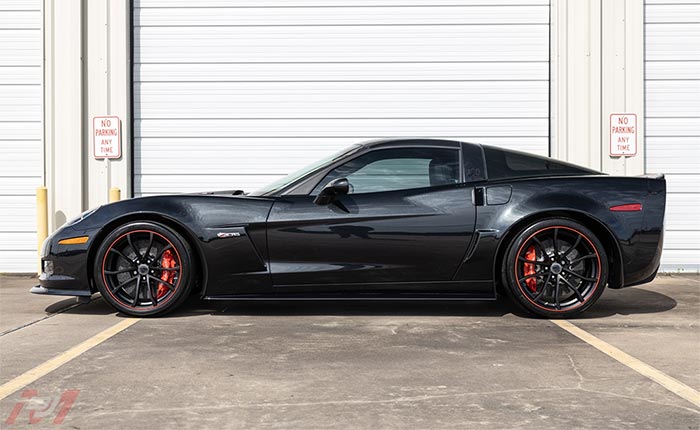 BJ Motors of Tomball, Texas, recently moved a 233-mile Centennial Edition ZR1 with the coveted PDE performance package for the impressive sum of $114,000. Now, they are offering a matching 2012 Corvette Z06 Centennial Edition with just under one-quarter of their ZR1's already extremely low odometer reading!
BJ's as-new penultimate-year C6 Z06 is one of the most desirable ever to leave the assembly plant. It is one of just 478 Zs produced in 2012, and it represents 1/195th of the special edition Centennial production, the only Corvettes ever finished in the stunning 58U Carbon Flash Metallic paint. As if that wasn't enough, it is also one of just 117 units that were equipped with the Carbon Ceramic brakes and Pilot Sport Cup tires of the Z07 package that allowed the '12 Z to lap the infamous Nürburgring within three seconds of the ZR1, even with a 133-HP deficit.

Wearing VIN 5577, this Z has to be one of the most well-preserved Centennial Z06s in existence after its siblings have spent nearly a decade embarrassing more expensive metal on the street, strip, and track. It is a time machine back to 2012, including an asking price very close to the original MSRP. $99,995 might seem steep for a nine-model-year-old 'Vette, but in today's crazy market, it feels about right (a 10k mile '11 Z06 Carbon failed to sell for $64,000 a couple of weeks ago, so who knows?).

If you have your heart set on a new Corvette, but GM's production woes have kept you out of a C8, consider this 7.0-liter blast from the not-too-distant past! If this thing were parked next to a 2021 Stingray in your author's garage, it would be the newer car sitting at 55-miles when 2030 rolls around. The Z06, on the other hand, might need a nut and bolt restoration; there's no way that I could resist this car!

Source:
bjmotors.biz

Related:
This Matching Numbers 1961 Corvette Fuelie Project Car Was Too Nice to Restomod
Corvettes for Sale: Cordovan Maroon 1968 Corvette Convertible
Corvettes for Sale: 1976 Corvette Shows Off Its Supercharged ZZ4 Crate Motor Through Custom Body