With the high resale value of the C2 Corvettes produced from 1963-67, it's surprising that the third-generation hasn't been as popular with the collector crowd, at least considering that the 1968 Corvette was an immediate smash hit with buyers.
Indeed, some 28,566 customers plunked down their cash to buy the space-age looking new Stingray, with 9,936 of them opting for coupes with an exciting new feature known as T-tops. Removable roof panels like them have become a Corvette tradition ever since.

Here's your opportunity to see what all the fuss was about back in the fall of '67 when Chevy unveiled its successor to the C2.
This Stingray convertible – one of 18,630 produced at the St. Louis factory that model year – is up for sale on eBay through 9:25 p.m. Wednesday, June 3, and after 19 bids, the highest offer has reached $25,500.

If a deal is reached tomorrow night, the new owner will soon be driving a maroon Corvette "with normal imperfections that would be consistent for this model year automobile," the listing notes.
In photos at least, the car presents fairly well, with very shiny maroon paint and a black interior that shows only "minor wear," according to the seller.

Among the positive attributes of the car are the more than $2,000 spent on new tires (around factory alloy wheels) and a new black canvas convertible top, and a matching numbers powertrain with a 327/350 horsepower L79 V8 engine hooked to a four-speed manual transmission that after undergoing a few minor modifications, "runs strong and shifts great," the listing claims.
On the negative side, the tachometer doesn't work, and the odometer died near the 41,000-mile mark, meaning it's impossible to know for sure exactly how far this car has actually traveled. All the other gauges remain in proper working order, though, and the factory radio still operates, too.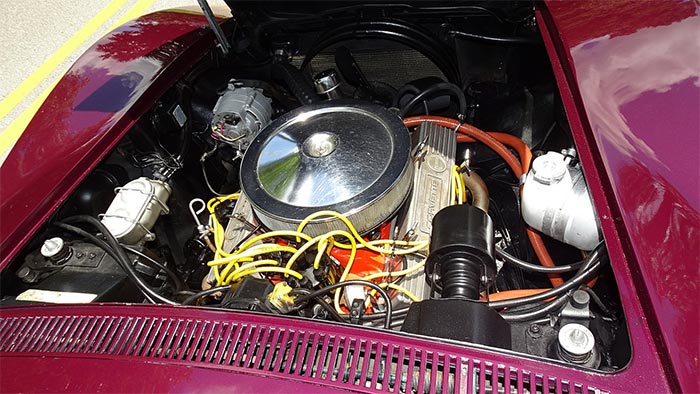 "This is a collectible Corvette with a solid body and mechanically in great running order," the seller says. "This model year is going up in value every year. Great cruise night car or local shows."
We have to admit the black convertible top against the maroon makes for a nice combination, and there's not much prettier than the lines of an early C3 chrome-bumpered convertible with the top down. Do you agree?

Source:
eBay Motors

Related:

Corvettes for Sale: 1976 Corvette Shows Off Its Supercharged ZZ4 Crate Motor Through Custom Body
Corvettes for Sale: Lead the Pack in Your Very Own 1998 Corvette Indy 500 Pace Car