To say that we have never seen the Corvette market prices like they currently are would be an understatement. First, we have a new C8 Corvette that has been sold out for two consecutive years and there doesn't appear to be relief anytime soon as high demand for the new mid-engine sports car will most likely stretch into the C8's third model year.
That, coupled with the worldwide pandemic and automotive parts shortages has also led to a run on pre-owned Corvettes with owners asking and receiving some of the highest resale prices we've ever seen.
Now there is a new study out from automotive research firm iSeeCars.com that shows just how much used Corvette prices have risen in the last 12 months.
In the repot, iSeeCars.com analyzed over 1.2 million used car sales in April 2021 which shows on average that used car prices have increased 16.8%, or $3,926 when compared to the same period in the previous year. Used car prices generally remain relatively constant year over year with 2019 having a 0.2% reduction over 2018, and 2020 had a 0.1% price increase over 2019.
iSeeCars.com shows that the Chevrolet Corvette is at the top of the charts with the greatest year-over-year price increase. Prices for the Corvette are up by 33.9% since April 2020 with the average used Corvette selling for $17,432 more in April 2021 when compared to April 2020.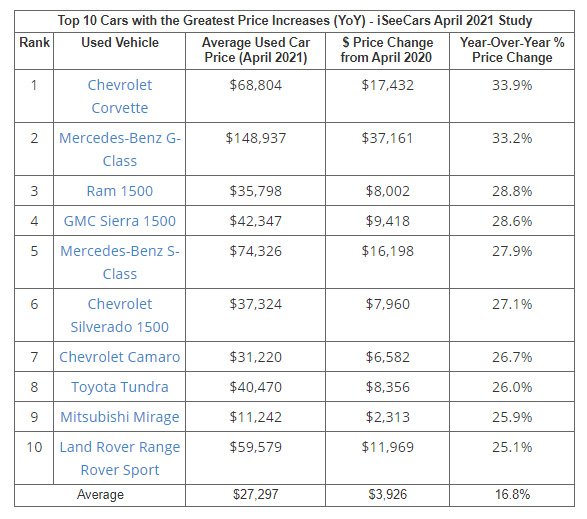 Karl Brauer, executive analyst for iSeeCars, sees the pricing trends continuing "The current used car price increase is unparalleled, and prices will likely remain elevated for the foreseeable future due to the magnitude of the global microchip shortage and restricted new car supply," said Brauer. "We've identified the used cars with the greatest price increases, which can represent lucrative trade-in opportunities for their owners."
Joining the Corvette on the list is the Chevrolet Camaro which is seeing its used prices up 26.7%. Brauer attributes the surge for sportscars as being a way that consumers are beating back the pandemic and looking to have some fun behind the wheel.
"These sports cars are aspirational cars for many consumers, and they surged in popularity during the pandemic as drivers sought fun cars to combat boredom," said Brauer. "Sports cars aren't practical purchases, so drivers are likely more willing to pay a premium for them, especially because they aren't as common in the used car marketplace."
The surge in the year-over-year pre-owned Corvette pricing is most likely due to the demand for the C8, with many new owners flipping their cars immediately upon delivery for huge returns. A search of the largest automotive sales websites shows the base 1LT C8 Corvette Stingray which retails for $59,995 is regularly being listed for $90,000 or more.
However, C7 Corvette owners are also seeing success in the market with low mileage and manual examples selling quickly. Many owners are also utilizing online retailers like Carvana, Vroom, and CarMax to find the best offer for their cars.

Source:
iSeeCars.com

Related:
The Chevrolet Corvette Was the Fastest-Selling Car During the Month of April 2021
STUDY: The Chevrolet Corvette was the Fastest-Selling New Car in February
STUDY: Corvette Ranks 5th in Sports Cars in 5-Year Depreciation