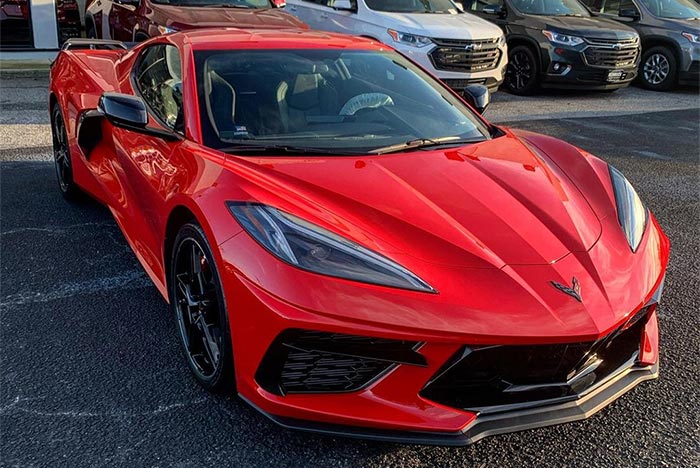 There's no denying how great Torch Red looks on the sharp lines and contrasting trim of the C8 Corvette. But that's not just me saying that. It's those new and soon-to-be new owners of the 2021 Corvette who have spoken.
During the National Corvette Museum's Bash Event, members of the Corvette Team offered a virtual presentation covering highlights of the 2021 Corvette model year and included was an update on the exterior and interior color choices by popularity. With a total of 19,362 Corvettes in GM's Order Bank which represent completed and pending orders, we get a great look at how customers are voting with their pocketbooks.
As was the case in 2020, the top color so far for the 2021 model year is Torch Red at 20% which represents 3,872 Corvettes produced in the perennial favorite. One out of five C8s are little red Corvettes!
The second most popular color is Arctic White at 14% of production, which is approximately 2,710 Corvettes produced.
Third with a bullet is the new Red Mist which so far is the breakout color for the model year. At 13% of production, that's approximately 2,517 Red Mist Corvettes. We'll never forget how Corvette Chief Engineer Tadge Juechter enthusiastically introduced the color at last year's Bash and told us how great he thought it was, even excitingly telling us he ordered it for his 2021 captured test fleet car.
The new Silver Flare is also overachieving the color it replaced. In 2020, Blade Silver represented 5.5% of exterior colors with a total of 1130 Corvettes produced. For 2021, Silver Flare is at 7% of production representing 1,355 Corvettes produced so far.

The slide also breaks out the interior colors including seatbelts. No surprise that Jet Black and Adrenaline Red are the top two as they are offered across all trim levels. The new Strike Yellow/Sky Cool Gray is only at 1% but considering that its matching exterior color Accelerate Yellow is at 2% to 3% of production at best, and that would explain the rarity.
Black is still by far the most popular seatbelt choice with Adrenaline Red second at 15% and Blue is third with 7%. The other choices offer buyers to further customize their interiors, but you see the bottom three only make up a combined 12% of production.
*Hat tip to Harlan for sending us a higher quality slide.

Source:
Chevrolet.com
Related:
Corvette Convertibles Now Account for 41 Percent of C8 Production
Corvette Assembly Plant Director Kai Spande Offers Update at the 2021 NCM Bash
[PICS] The Three New Colors for the 2022 Corvette Are Officially Revealed at the NCM Bash