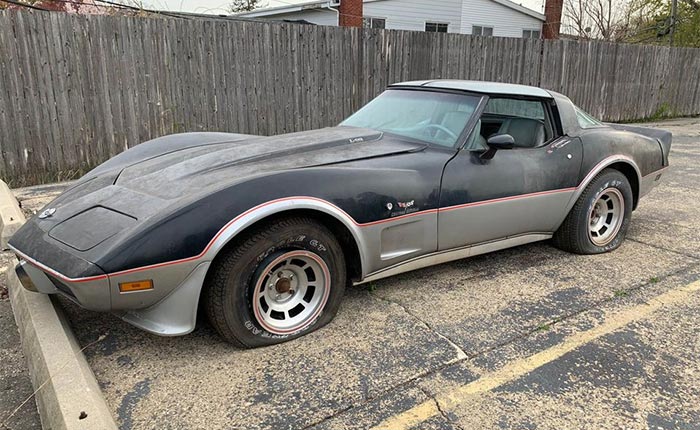 One of the most desirable C3 Corvettes – at least of the later years – has to be the 1978 Indy Pace Car, the first Corvette to have the honor of leading the field around the Indianapolis Raceway.
To commemorate the occasion, Chevy decided to build a special Pace Car that proved to be so popular after a Wall Street Journal story touted its collectability, that a nationwide frenzy exploded, with prices reportedly going as high as $75,000 or more for a car that listed for just $13,653.21.
Because there were so many Pace Cars produced, some 6,502, reportedly enough so that every dealer could get one, those stratospheric prices soon tanked before starting to rise again in the past few years, especially for low-mileage examples.

We've all seen Pace Cars these days that have come out of hibernation and still have the plastic wrapping on the leather seats, with virtually no miles on the clock.
Not all low-mileage examples are costly, however. Today, we're telling you about one that reportedly has just 39,000 miles, but this car just proves that mileage isn't always a good indicator of the condition of a vehicle, as one glance at the photos quickly proves.
The car has been sitting for the past five years, according to the Facebook Marketplace ad out of Morton Grove, Illinois. During that time, the driver's side window apparently has been broken, with shards of glass lying in the seat. Not that it really makes much difference, since the seats – and virtually the entire interior – will need to be replaced because of their condition.

All four tires are flat, though the original wheels are still in place.
Same goes for the paint, which is still in place but are now a nice FLAT shade of black and silver now.

On the other hand, the owner says his two-owner car was "running perfect" when he parked it, and the original engine – though we're not told if it was the L48 or higher-performance L82 – is still intact, hooked to the original automatic transmission.
The owner is asking $10,500 but that might be negotiable since he says he "need[s] it gone."

If we had the money, we might be interested in this car, since it's always been one of our favorite Corvettes of all time and could really be a showcar with the right amount of TLC.
In fact, such a Pace Car was the subject of the first automotive story I ever wrote, way back in 1978 for my hometown newspaper. I still have the photos of that car sitting on the dealership floor and would love to have that one!

Source:
Facebook Marketplace

Related:
Corvettes for Sale: 1961 Corvette Owned by the Same Family for 56 Years
Corvettes For Sale: Doug Rippie's Le Mans ZR-1 Corvette
Corvettes on Craigslist: Saddle Tan 1963 Corvette Split Window