The brothers behind Hungary's Hardcore Engine Builders wrapped up what they are calling a C3/C6 Hybrid in 2017. Well, word of their beautiful creation has finally reached Corvette's homeland, and if you haven't seen it yet, you are in for a treat!
After a complete tear-down of two donor vehicles, HEB went to work assembling a Frankenfine monster with all of the best parts they found. The 6.2L LS3 V8, 6-speed automatic transaxle, and steering components from the C6 were fitted to a custom frame. Upgraded C6 Z06 brakes and a stainless-steel exhaust system with long tube headers was added, along with keyless entry and other contemporary electronics.

The late C3 body was carefully placed over all of this modern goodness and slathered in the stunning combination of CorvetteBlogger favorite, Nardo Gray, and a light blue that falls somewhere between Ford's Grabber Blue and the Tension Blue of the Collector's Edition C7 GS on the color chart. We want to take a moment to show our appreciation of HEB's inclusion of the blue on this build. The "glossy primer" look is trendy right now, and they could have easily called it quits after applying the gray, but the blue stinger stripe and subtle accents in the "gills" take the look of this car over the top! The baby blue accents continue under the hood and in the engine bay, highlighting just how comprehensive the builders were with their design process. All of the chrome bits, including the early C3-style bumpers, have been blacked out, and a set of quad halo headlights peeks through the blacked-out lower grille grates.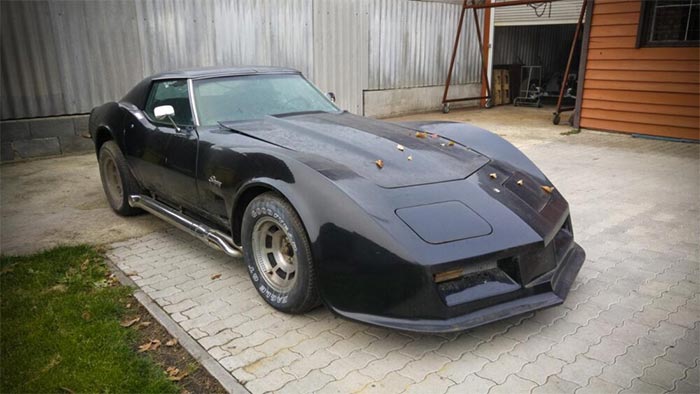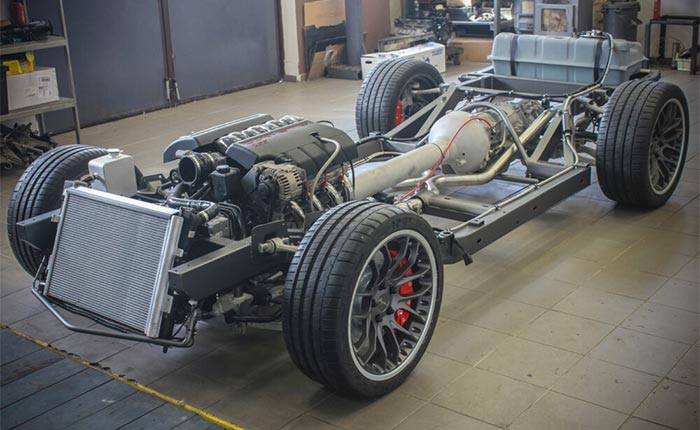 Topping everything off is a set of black multi-spoke wheels reminiscent of the ones fitted to the original batch of Challenger Hellcats that were rolling off of assembly lines in Canada when this car was still under construction. The four corners also feature the only design choice that we are on the fence about; white-letter "Corvette Stingray" rubber. Overall though, HEB has created one of the coolest C3s on the planet. It has to look completely insane on the streets of central Europe where any version of America's Sports Car is a rare sight!

Source:
Hardcore Engine Builders via Corvette Forum

Related:
[VIDEO] 1974 Corvette Undergoes Mild to Wild Transformation from Stock to Restomod
[PICS] Bloomington Gold Judges Restomod Corvettes
[VIDEO] Detroit Speed's 550-Horsepower Purpose-Built 1972 Corvette Restomod