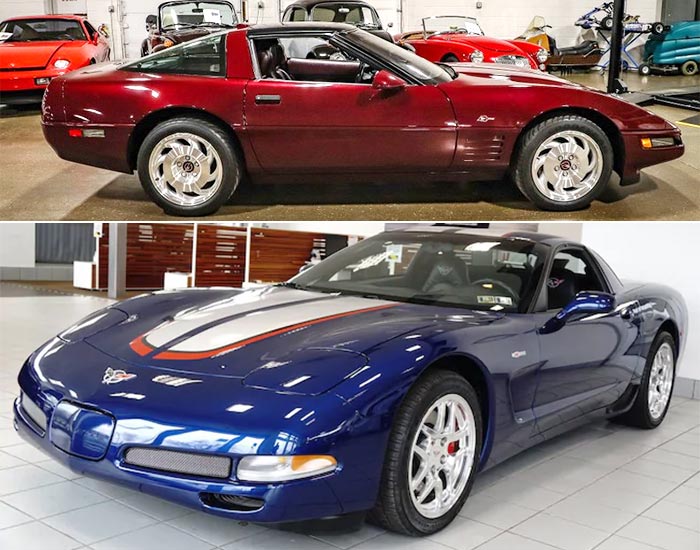 Previously on This or That: a 1963 Corvette Grand Sport by Superformance edged out an LS3-powered 1965 Restomod. The second straight C2 vs. C2 matchup didn't disappoint with a close 55/45-split at the polls.
Welcome back to This or That, the column where CorvetteBlogger finds two evenly matched examples of America's Sports Car and then lets our passionate readers decide which one is more desirable. This time around, we are throwing two 405-horsepower legends into the ring to see which comes out on top with our voters. Along with identical dyno-sheets, this week's combatants enter as the pinnacle of their respective Corvette generations, under 10,000 miles, and, to kick things up a notch, limited edition prominence!
Option 1: The ZR-1
The elder statesman in this family feud is a 1993 Corvette ZR-1 wearing the signature Ruby Red Metallic of the 40th Anniversary Edition. This one-owner, 7,577-mile gem is currently for sale from Grand Rapids' own Garage Kept Motors. It represents one of just 245 C4s ever to wear ZR-1 and special edition badges. On top of the distinctive 40th Anniversary package, 1993 marked the first year of the King of the Hill's upgraded power figure that would stick with Chevrolet's halo model through the end of production in 1995. Its world-renowned, Lotus-designed, Mercury Marine-built LT5 V8 remains the only dual-overhead-cam engine ever installed in a Corvette. GM was so confident in this car that they debuted it in the middle of Europe's sports car country at the Geneva Motor Show, and its ferocity during press drives along the Monte Carlo Rally route earned it the nickname, "Corvette from Hell." Even if its 405 ponies don't exactly raise any eyebrows in 2021, the ZR-1's endurance records (read a fantastic, first-hand account of "the 24" here) are still entirely epic, more than three decades later! Over 24-straight hours, the ZR-1 averaged 175.885 MPH, four hours later, it passed the 5,000-mile mark with an average speed of 173.791, and even after all of that punishment, it was taken for two full-throttle, "cool-down" laps of the 7.712-mile Firestone oval where it averaged more than 190 MPH!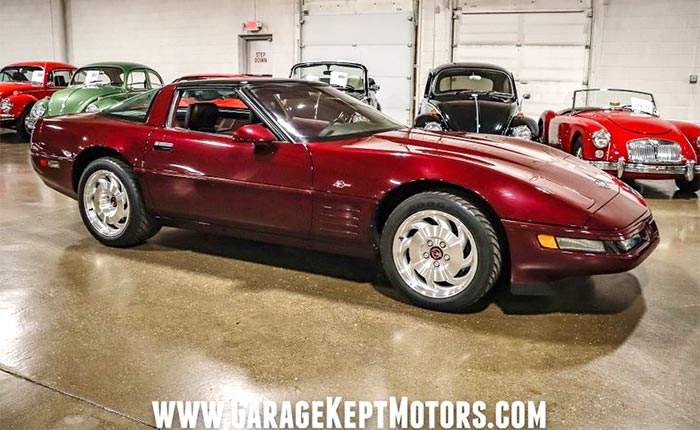 Option 2: The Z06
If the C4 ZR-1 had an Achilles heel, it was its astronomical MSRP. At about double the cost of a standard C4, the King was out of reach for a large swath of the nameplate's most faithful followers. When the fifth-generation 'Vette rolled onto the scene in 1997, a performance program was started with the goal of bringing ZR-1 levels of performance to showrooms at an attainable price. In 2002, the fruits of that project delivered a ZR-1 equaling 405 horsepower at a premium of less than $9,000 over the base Corvette. These everyday supercars were given the semi-obscure, but none-the-less fabled Z06 moniker and were in production for three years (along with an initial '01 run of 385 HP Zs) until the C6 broke cover in 2005. To celebrate the success of the Z06-based C5.R (33 1st place finishes including 3 wins at the 24 Hours of LeMans between 2000 and 2004), a special edition was offered for the Z06's final model-year. Listed under RPO Z16, the Commemorative Edition added a hood that would become the first major body panel of an American car constructed out of Carbon Fiber. The hood saved 10.6 lbs. from the front of each Z06. On top of the elegant hood, all Commemorative Zs wore LeMans Blue Metallic paint with dual red and silver stripes that mimicked those of the C5 racecars. Additionally, Commemorative Zs benefitted from damping and bushing revisions after feedback from additional testing at Germany's infamous Nürburgring, a process that has since become a staple of the Corvette validation process. Without doubt, the Commemorative Z06 stands alone as the cream of the crop for C5 Corvettes, and the example currently on offer from BMW of Middleburg Heights, Ohio, might be the best one we've seen hit the market in some time. It strikes that perfect balance at 8,664 miles; it looks showroom-fresh, but you wouldn't feel like you were ruining a collectible every time you wanted to take it out and listen to the sound of its titanium exhaust (another first for mass-produced cars)!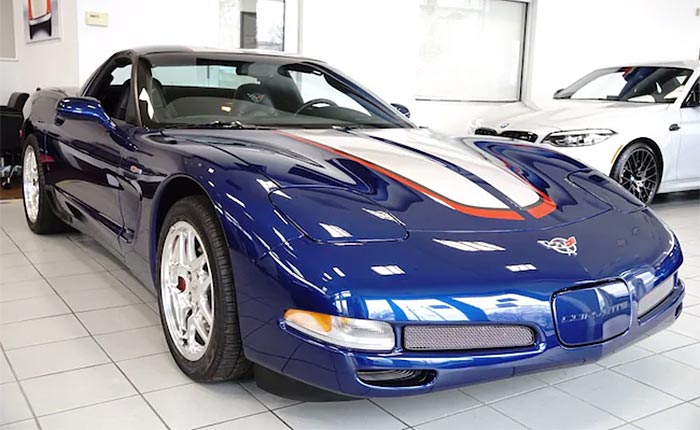 Decision Points:
Eye of the Beholder: Where science can't separate these two magnificent machines, your own personal preference will have to do the heavy lifting. Styling and generational taste are the big differences in the Corvettes that we've selected for this edition of ToT. Do you like the razor-sharp silhouette of the '84-'96 'Vettes, or are you smitten with the C5's unique hard-top-coupe body style? Even though they look very similar on paper, the way that the LT5 and the C5Z's LS6 deliver their power is quite different; if you've piloted both of them, you surely have a preference there, as well.

Interior/Features: The ZR-1 earns points for its removable top (a feature that wouldn't return to high-performance Corvette variants until 2015) and old-school-cool interior technology and color scheme. The Z06 counters with ease of ingress and egress, driver comfort, and "can't live without it once you've experienced it" head-up display. We will call this category a wash.
Rarity: There were more Commemorative Edition Z06s produced in 2004 (2,025) than the total production run of 405 HP C4 ZR-1s (1,344 units spread out evenly between 1993-95), so our first option easily takes the cake in this category.
Speed: Category four is another close one. The ZR-1 absolutely owns its predecessor on top-speed runs, but the Z06 takes advantage of its superior power to weight ratio in any race of a quarter-mile or less. Around a road course, we'd suspect that the newer car would also turn in the better time.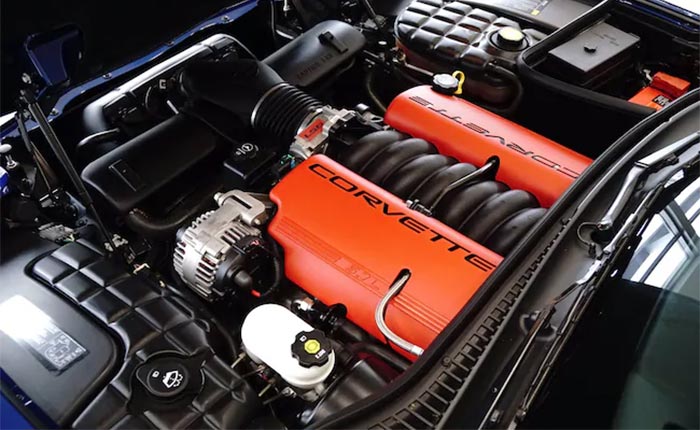 Price: Here is the big one! As was the case in 2004, the C4 carries a significant markup vs. the newer C5. In this instance, choosing the 1993 ZR-1 will put a $15,000 larger dent in a prospective buyer's bank account. It has been called the best performance buy in the world by so many publications for so long now that it should be common knowledge, but we will reiterate it here again; for just $34,000, you can own a Corvette that can embarrass current exotics on the track if driven with some modicum of skill. If the ZR-1 is the way you are leaning, you'll have to part with $49,900 of your hard-earned dollars.
The Bloggers Weigh In:
Alex: For me, this is one of the toughest possible matchups in all of Corvettedom. I got to spend significant time in examples of both machines during my time as a salesman and grew to love them immensely. The historian in me automatically leans towards the ZR-1; it truly is one of the most significant cars in American history; its LT5 is a work of art, both visually and in operation. I also prefer the C4's angular body style to the softer lines of the C5. The C4 ZR-1 is the one I'd choose to add to a collection or take to a car show in a heartbeat. But for my own purposes, I'm going to pick the C5 Z06. Driving a C5Z is a revelation! It is the car that was so difficult for the Corvette team to one-up. They struggled to make their creations significantly faster after 2004, even after adding 100, 233, 245, and even 350 horses. I believe that the C5Z is the point when the law of diminishing returns really forced the need for a mid-engine makeover. It is so light, simple, and balanced, a true joy to drive! The fact that it is so much cheaper is just icing on the cake!
Keith: Alex is getting scary good at putting these match-ups together where your head tells you one car while your heart is screaming for the other one. I know the ZR-1 should be a no-brainer with only 245 offered in the 40th Anniversary package. And if these were cars that I was buying to stick in a museum and never drive, the ZR-1 would be the one to get. Both have less than 10,000 miles on them which is low, but not so low that you would feel like you were hurting the value with every drive. So if I were planning on driving them once in a while (or a little more than that), it would be the Commemorative Edition Z06 that I would take in a heartbeat over the C4.
Vote for Your Favorite
Okay, Corvette Nation! Now it's time for your voice to be heard. Take the poll and let us know which of these two cars would be your choice. Feel free to sound off in the comments as well:
Loading ...

Source:
garagekeptmotors.com and BMW of Middleburg Heights

Related:
This or That: Corvette Restomod vs Grand Sport Tribute
This or That: Which MidYear Holy Grail Would You Choose for Under $200K?
This or That: 2020 Corvette Stingray vs 2019 Corvette ZR1