My wife's favorite Corvette is a 1982 Collector Edition.
With its unique paint job, custom interior, and opening rear hatch to celebrate the last year of the C3s, it's no wonder she – and other enthusiasts – feel that way.
But many fans are disappointed under the hood with the relatively puny production of the 1982's cross fire injected 350 V8 engine that pumped out just 200 horsepower.

That problem has been solved in a big way, however, by Barrett-Jacksonthis custom '82 that will be rolling across the block at Barrett-Jackson's Scottsdale Auction set for March 20-27.
Underneath the hood is a twin-turbo Dart 350 super high-performance V8 with 4-bolt main and precision machine cast race block backed by a Muncie M22 Rock Crusher 4-speed manual transmission and a 3.55 posi-traction rear end.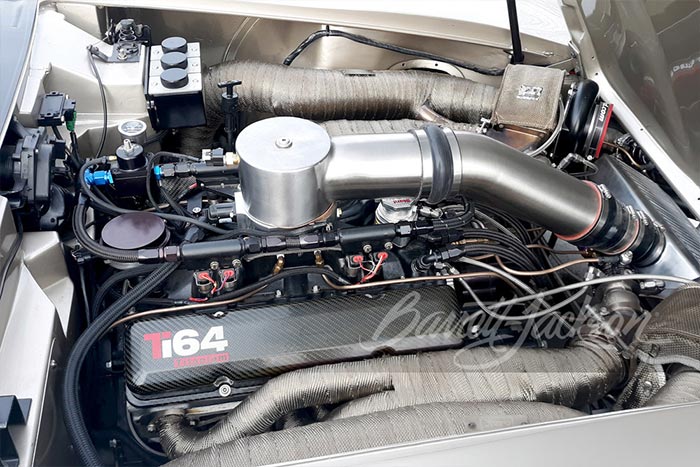 As set up now, the engine produces more than 750 horsepower at 15 pounds of boost from the twin-turbo, but it's adjustable all the way up to a whopping 1,500 horsepower!
The car has covered just 750 miles since the work was completed, and believe it or not, it's said to have never been raced.
Hopefully, the new owner will change that quickly. After all, it would be a shame to continue neglecting all the performance upgrades that have been made, including a Holley multi-port EFI intelligent direct fuel injection, MSD performance ignition, Steeroids rack & pinion steering, 16-volt battery with SAHN electric controller, and AutoMeter BEX-5000 battery extender, and a stainless-steel TIG-welded custom exhaust system with boost-controlled automatic cutouts for the straight pipes.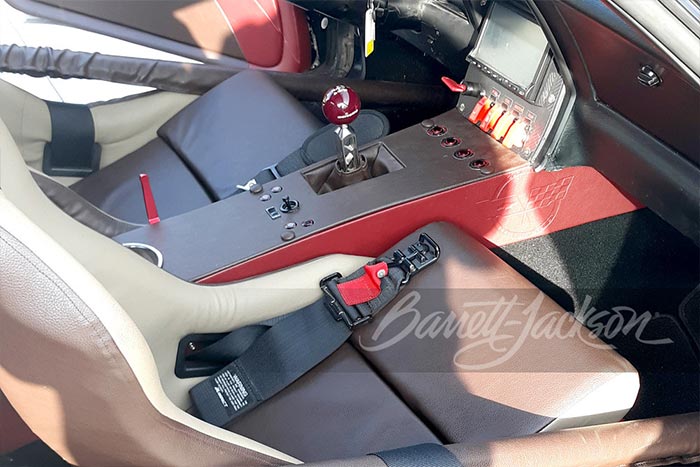 Other racing-oriented updates include SharkBite coilovers in the front and rear with front aluminum control arms and rear cantilever system, front sway bar tuned for cornering, rear spreader bar and sway bar tuned for minimum body roll, and SuperShox double adjustable racing shocks all around that are adjustable from the cockpit, not to mention Wilwood hydraulic 6-piston front and 4-piston rear calipers with forged Superlite drilled and slotted discs at all four wheels and line lock parking brake. Helping handle all that power structurally is a box-type ladder frame with crossmembers, roll cage, and titanium suspension, and driveline hardware.
Coated in Titanium paint with electric actuated headlights, this Corvette also talks the talk inside with custom-designed two-tone wrapped racing bucket seats with 4-point harnesses, wrapped roll cage, Holley EFI flat-screen gauges with eight adjustable screens, LED lighting, racing-style power windows, and a Race Tech titanium shifter.
Rounding out the look of this custom 'Vette is a set of 18×10 wheels wrapped win DOT-rated Nitto Competition tires.

Barrett-Jackson's Scottsdale sale will take place from March 20-27 at Westworld of Scottsdale. Check out Barrett-Jackson for details and the auction docket.

Source:
Barrett-Jackson via AutoEvolution.com

Related:
[VIDEO] 1963 Split Window Restomod Heading to Barrett-Jackson Scottsdale
The First 2020 Corvette Convertible Produced Will Be Sold at Barrett-Jackson Scottsdale for Charity
'Real Deal' 1967 Corvette L71 Headed Barrett-Jackson Scottsdale in March