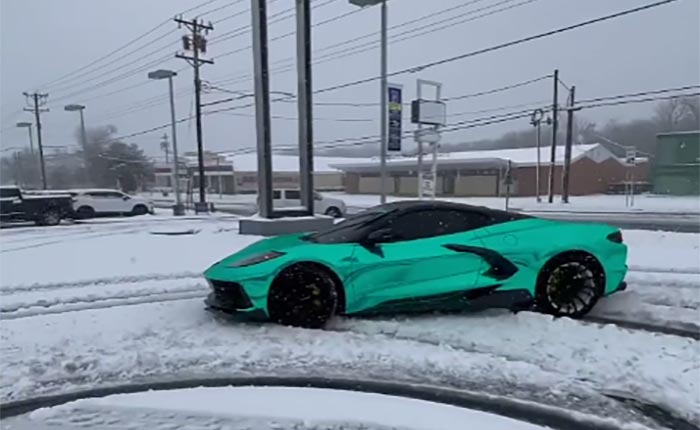 Need a mid-day break? Check out this C8 Corvette doing some donuts in the parking lot of a Chevy dealership!
There's nothing like a little snow on the ground to make hooning your mid-engine Corvette so much easier and you have the added benefit of not burning up that expensive Michelin rubber as well.
This Corvette has been wrapped in "chrome turquoise" which looks very eerie under the gray skies and white sparking lot. The Stingray's entire top is done in black and with the tinted windows, there's no telling who is driving it. You have to wonder, was the driver at the dealership for business, or just to provide some needed entertainment during another Polar Vortex?

Fun stuff for sure, but I sure hope he has the WeatherTech floor mats with all that shush on the ground!

Source:
andrewgee15 / Instagram

Related:
[VIDEO] 2020 Corvette Offers Up These Tasty Donuts During Philadelphia Street Takeover
[VIDEO] Need an Afternoon Snack? Check Out These Tasty 2020 Corvette Donuts!
[VIDEO] Donuts at Delivery? Yes Please!