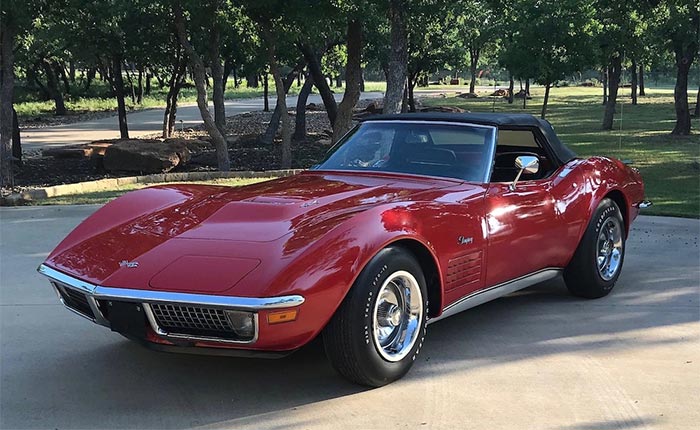 Photo Credit: Bloomington Gold

As I look out the window of our Detroit Bureau office, I see a white, snow-covered world, and the thermometer currently reads 19 degrees. With that, it's hard to believe that Bloomington Gold's annual summertime Corvette extravaganza is a tick over 4 months away. As the date draws nearer, we're learning more details about what the June 18th and 19th event will look like.
Recently the Bloomington Gold team revealed that the 2021 Gold Collection will salute the 1971 LS6-powered Corvettes as they turn 50 years old this year. RPO LS6 – a 425hp, 454c1 engine – was offered only in the 1971 model year. Thus, they are even rarer than L88 Corvettes. Total LS6 production was 188 (1% of 1971 production) cars compared to 216 L88's over their 3-year run. The stump-pulling, aluminum head, big block added 22% ($1,221) to the coupe's base price of $5,496. Needless to say, not too many people opted for that powerplant.
According to the Bloomington Gold website, less than 100 of the original LS6 cars are currently known to exist. This year's Gold Collection is expected to be the largest ever gathering of 1971 LS6 Corvettes in one location. We can't wait to see all these rare Corvettes under one roof.
Photo Credit: Mecum

Bloomington Gold 2021 will take place the Lucas Oil Stadium in downtown Indianapolis, Indiana. The 2-day event will run Friday, June 18th, and Saturday, June 19th. Head on over to their website to buy tickets or register for Certification judging.

Source:
Bloomington Gold

Related:
[PODCAST] Guy Larson of Bloomington Gold Is This Week's Guest on the Corvette Today Podcast
[PICS] The Corvette Vanity Plates from Bloomington Gold 2020
[PICS] Bloomington Gold Judges Restomod Corvettes