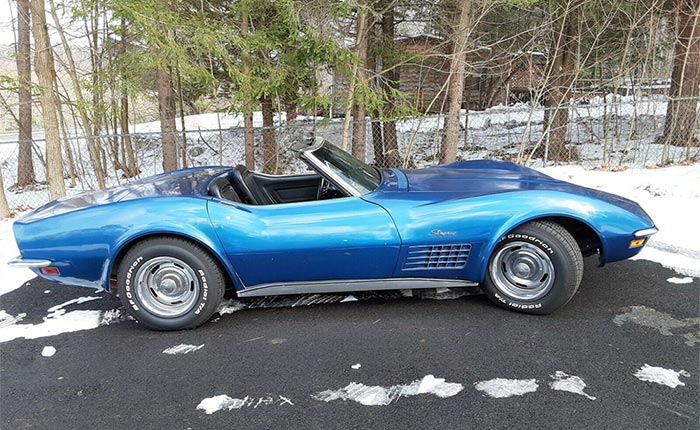 This 1971 Corvette convertible may not ever be hugely popular with serious collectors, but that doesn't mean it still couldn't provide a lot of fun for the right owner.
But if you're interested, you better hurry as the eBay auction for this Stingray ends at 3:09 p.m. Thursday, Feb. 11. Furthermore, 12 bids have already escalated the price to $14,644 – not very far from the "Buy It Now" price of $16,500, so this one could be snatched up anytime now.

For that money, the eventual owner won't be getting a perfect car, but nevertheless it remains in good enough shape for the seller to call it "a great candidate for restoration."
The car – which retains its numbers-matching 350 engine – is described as being "all original" other than the paint. At some point, the original rare silver paint (only 1,177 left St. Louis in that color in '71) was covered over with the current shade of blue, probably before 1981 when it was parked for decades before being purchased at an estate sale about five years ago. The paint is showing its age, with chips, scuffs, and scratches in several places, so another repaint is in the offing.

At that point, the new owner replaced the brake calipers, tires, and carburetor to get the car on the road again, and the seller subsequently bought it from the person who did that work.
In case you prefer originality, the original correct carburetor that has been rebuilt can be seen in a box on the passenger floor. Other original parts also included with the sale are the air cleaner and wire shielding.

In the interest of full disclosure, the owner notes that the transmission leaks, and noise is coming from the left rear (which he surmises could be the e-brake inside the rotor), the wiper motor and the driver door outside handle don't work, and the convertible top is missing (though a vinyl top is included and is said to be in good condition).
On the other hand, the lights and wiper door, as well as the cool fiber optics, all work as they should he says. The interior, while not nearly perfect, is still in good enough condition that someone could use it as a driver and not worry about replacing it.

While these old Stingrays don't drive nearly as well as the new C8, obviously, as the former owner of a '71 LT1, I can attest that they're still loads of fun to take for a spin and half a century later definitely remain attention-getters on the road with their voluptuous Coke bottle curves.

Source:
eBay Motors

Related:
Collectors Have Plenty of Choices For Investment-Grade C4 Corvette ZR-1s
Corvettes on Craigslist: 1989 Corvette Midyear Conversion
2020 Corvette Stingray Convertible Headed to Carlisle's Lakeland Winter Auction