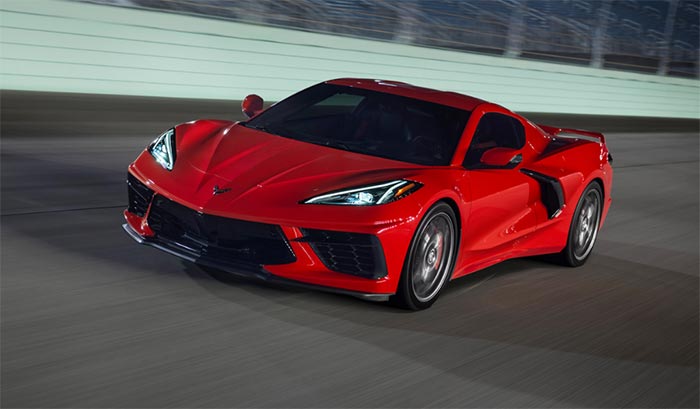 Photo Credit: Chevrolet

We've told you about old-timers like the Corvette enthusiast who recently celebrated his 90th birthday with the purchase of a brand new 2021 C8.
That's a heartwarming story, but the customers who are really pulling on General Motors' heartstrings – and purse strings – are members of a much younger demographic.
For years, Chevy has been lamenting the upward creep in the age of its Corvette customer base, leading some folks to worry that the legendary car might be on its last legs. We all hoped the much-improved C7 would bring younger customers into the fold, and that happened to a degree.
But despite the impressive performance of the seventh generation Stingray, the average Corvette customer's age in 2019 had still climbed to 61 years old.
Now, though, the switch to the mid-engine format with the hotter-than-a-firecracker 2020 Corvette is already paying dividends for GM and ensuring a much brighter future for America's Sports Car.
According to General Motors' Steve Hill, the number of C8 Corvettes sold to Generation X customers has doubled over the C7.
That's great news for GM since GenX customers were born between 1965 and 1980, meaning they range in age from 41 to 56.
Corvettes have always been outstanding automotive values, but now they seem to have shed their "old man" Baby Boomer image and appeal to enthusiasts of all ages, ranging from young kids to nonagenarians.
Even better news for GM is that the new C8 is luring wealthier customers into the fold, with the median annual household income of a 2020 buyer said to be $76,000 higher than for C7 customers. That means there will likely be a strong market for higher performance (i.e., more costly and more profitable) models like the Z06, E-Ray, and Zora expected to arrive in the years ahead.
While some pessimists were predicting the demise of the Corvette with the switch to the mid-engine design, so far, it appears that General Motors has struck a gold mine with its new eighth-generation Stingray. While sadly many of their longtime customers may never live to see a ninth generation, they can at least go to their graves knowing that their favorite car is likely going to be around for quite a few more years.

Source:
gmauthority.com

Related:
GM Vice President Steve Hill Says C8 Buyers are Wealthier than C7 Customers
GM Vice President Steve Hill Says Most C8 Corvette Buyers Are New to the Chevy Brand
The Top 100 Corvette Dealers of 2020