If you have a 2020 Corvette Stingray but missed out on ordering the High Wing spoiler, you are now in luck!
We've been hearing that the High Wing has been orderable through the parts counter at your Chevrolet dealership and we've seen some owners who have picked one up separately to have installed once their car has shipped to their dealership. But now we have even more good news in that you can now order the High Wing directly from Chevrolet.com.
The High Wing was in high demand when production first started on the C8s in early 2020, but at the end of March, it had been placed on constraint due to the demand. Unfortunately, the supplier had continuing issues with matching production to the demand following the initial COVID shutdowns and in July the popular option was canceled by Chevrolet for all remaining 2020 orders. While a few were available through some third-part resellers, it's only been in the last month or so that we have seen buyers be able to get the wings through their Chevrolet dealer's parts department.
Chevrolet is currently offering the High Wing Spoiler in four body colors: Black, Shadow Gray, Torch Red, and Arctic White and four versions are currently showing available on Chevrolet's accessories page.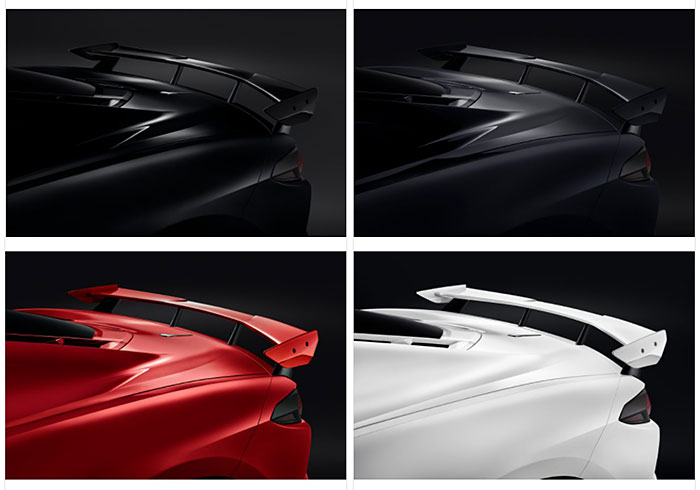 The cost of the High Wing Spoiler is $995 and you can get free shipping to the Chevrolet dealer of your choice. Dealer installation is also available and we've seen a $165 install price listed on one of the Facebook C8 Groups but nothing on the Chevy Accessories website, so check with your dealer for installation costs.
When the High Wing was stripped from existing orders, those customers were offered a 25% discount on all Chevrolet accessories purchased through Chevy's Accessories page at Chevrolet.com. If you have a coupon, you have until July 31, 2021, to place that order, so use it or lose it!
The High Wing will fit on a 2020 or 2021 Corvettes and those with the Z51 are easy as it uses the existing spoiler mounting points. You can install the High Wing on a non-Z51 but note that drilling is required!

Source:
Chevrolet.com

Related:
The High Wing Option Is Being Removed from 2020 Corvette Orders Due To Vendor Supply Issues
2020 Corvette's High Wing on Constraint Due to Supplier Closing for COVID-19
[VIDEO] Watch the Install of the High Wing on a Base 2020 Corvette (There will be drilling!)