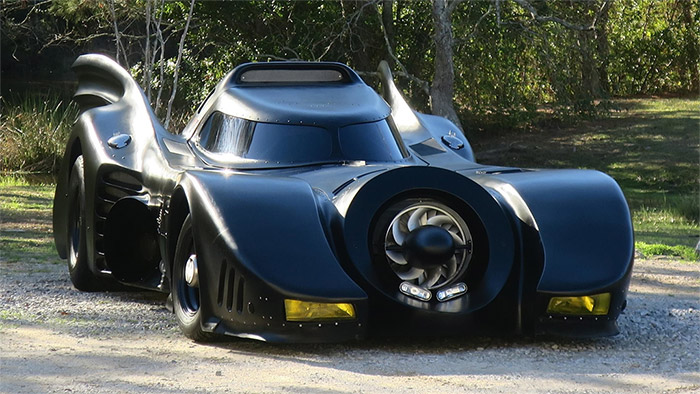 Welcome to Batmobile Blogger, or, BatmoBlogger (we're still working on the name), the best place on the World Wide Web to stay up to date on all things vehicular and batty! Have you heard that a mysterious Batmobile was found abandoned in a field last week? Forget the monoliths, that perfect seasonal discovery should be blowing up everyone's Google feed!
In all seriousness though, you are actually reading CorvetteBlogger (sorry if I confused you!) and one of the greatest things about America's sports car is its versatility as a canvas for all of the talented and creative tinkerers out there! One of the most recent trends to take the nation by storm was the stripped-down 'Vette Kart, but who knew that so many people out there were taking the Plastic Fantastic and using it to fabricate every American's childhood dream machine?
We have reported our fair share of Batmobile news lately (hence the tongue-in-cheek first paragraph) but out of all of those incredible builds, this 1989 Corvette turned 1989 Michael Keaton Batmobile might be the coolest. It might be an age thing, but when your author thinks about the Caped Crusader's wheels, this is the first car that comes to mind. Along with its completely authentic aesthetic, this Tim Burton-special from Putsch Racing is extremely well thought-out!
The 3,450 lb. rig is street legal and has been tested up to 120 MPH. It retains the original Corvette running gear but was designed to readily accept alternate power plants. Small and big-block V8s, Viper V10s and even Boeing turbo shaft turbines are listed as plug-n-play motivators. The tube frame chassis rides on independent air ride suspension and stopping power is provided by four-wheel vented disk brakes. All of the bat-stuff is functional, as well! The canopy automatically retracts with the push of a button on a bat remote, the digital display features police, military, and weather scanners, visable and infrared cameras, and the pièce de résistance has to be the working retractable .30 cal Browning machine guns that have been modified with no receiver to fire blanks on clean oxygen propane. The fun touches don't end there either. This '89 Batmobile is equipped with a PA system, a freight train horn, and some classic military aviation gear, including the sight from a P51 Mustang and a light switch cluster taken directly from a B17 Flying Fortress!
Whoever picked this bad boy up for $88,000 has made this blogger jealous in a way that hardly any vehicles from my birthyear are capable of (a Ferrari F40 is the only thing even close to this vicinity of cool that immediately comes to mind). If you aren't the lucky dog in question, maybe you can snag the next best thing for a cool $30,000. We will see you Jokers next week, same bat time, same mobile place!

Source:
Mecum Auctions

Related:
The Bid Goes On For This C4 Corvette-Based Batmobile Replica Offered at Mecum KC
[PICS] The Batwoman's New Batmobile is a C7 Corvette Shooting Brake
[VIDEO] 'The Batman' to Feature a 1963 Corvette as Bruce Wayne's Daily Driver