A twist of fate in the late '80s has led to a three-decade career in the Corvette parts business for a Pennsylvania man.
Ron DeSmiedt says he owned a body shop back when he was 18 years old but 10 years later he had grown bored with it and was looking for something else to do.
"When I wanted to phase out of the body business," he says in a video from American Collectors Insurance, "I didn't really know what I wanted to do. I had a wrecked Corvette there that a customer had given me because it wasn't fixable so I put an ad in the Philadelphia Inquirer back in the day when that was what you did."
The ad said he had a '74 Corvette that he was breaking up for parts only. The phone quickly began ringing off the hook till 2 or 3 in the morning, Ron remembers.

"I'm sure I gave most of those parts away not knowing better," he says now, "but I told my wife, wow, that worked! So the next day we went and looked for another one and the next week we looked for another one. Thirty-plus years later, here we are."
His business became Contemporary Corvette, based in Bristol, Pennsylvania, about a half-hour north of Philadelphia.
Over the decades, he's discovered that parting out the cars is more profitable than repairing them because of the labor savings. Right now he says drivetrains are hot because of the restomod and street rod hobby, noting that they sell 250 to 300 LS motors a year.
In the video he stands next to what those in the business consider a "chicken bone," or what's left of the car after all the good parts have been stripped off.
"You say there's a few things you see in there that are still good," he says. But when you specialize in one car, you get such an abundance of parts that just don't sell, like the A moldings that rarely get damaged, that "it doesn't pay to take it off because there's no market for it."

DeSmiedt has learned to remove only perfect parts because, he says, Corvette owners take a lot of pride in their cars and thus when they are parts shopping they are usually trying to improve their cars "so anything I send 'em usually needs to be an improvement over what they had."
Once all the good parts are removed, by the way, it's off to the crusher and then the scrapyard.
Ron says the C6 is the most difficult generation to work with in his business, but adds that the C5 is "awesome."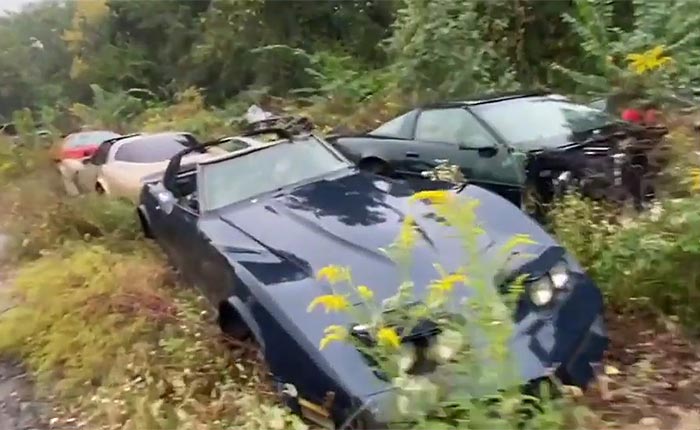 They're great parts cars, easy to work on, and fairly dependable, he says of the '97 to '04 Corvettes.
"The street riders like the suspension, they like the motors, the seats, so C5s are relatively simple to work on and they're completely a bolt-together car," he says.
After three decades of tearing Corvettes apart, Ron surprisingly says he doesn't have an answer as to which is his favorite.

Source:
americancollectors.com

Related:
[VIDEO] Take a Deep Dive into Buying Salvage Corvettes with a Submerged C6 ZR1
Salvage Title Corvette Z06 Goes for Pikes Peak Glory
[PIC] Throwback Thursday: One Man's Trashed Corvette is Another Man's Treasure