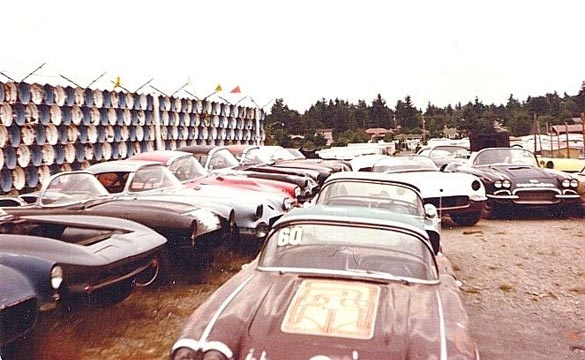 It's time for Throwback Thursday where we feature vintage photos of Corvettes. Today's selection may be hard to look at for some, so if you have a weak constitution, look away!
In the old days when a Corvette was all used up, they were disposed of by taking that final road trip down the street to the junkyard. We recognize that even new Corvettes today end up in junkyards too when crashed, burned, flooded or totaled. But seeing these classic Corvettes lined up sort of brings a tear to our eyes.
From what we understand, the picture was taken in the Seattle area back when this junkyard was known as "Lincoln's Salvage". We have several other photos of junked classic Corvettes from the same location which you can see on our Vintage Corvette board at Pinterest.com.
Click here to see a larger version of this vintage Corvette boneyard.
Do you have any vintage Corvette pictures to share? Let us know!

Source:
CorvetteBlogger @ Pinterest.com
Related:
[PIC] Throwback Thursday: 1963 Corvette Sting Ray Burnout
[PIC] Throwback Thursday: Sitting on the Back of Dad's 1966 Corvette
[PIC] Throwback Thursday: Beauties Parade at the Dragstrip
[PIC] Throwback Thursday: Motor Trend Tests the 1958 Corvette