Check out this recreation of the No. 4 Corvette C8.R racing livery on a 2020 Corvette Stingray. The car is owned by a Corvette Forum member named Jimmies63 and after we saw it, we had to share it so we reached out for some details on the build.
Jimmie tells us that this was actually a pre-production 2020 Stingray that was one of the extra allocations offered to dealers earlier this spring. He says it's number 484 and was ordered by Harlan Charles whose name was on the original order documents. Jimmie says when he got the call from his dealer Paddock Chevrolet that the car was available, he told his rep he would take it without even really knowing the details of the car including the color.

In our reply to us, we learned that Jimmie is a big fan of Corvette Racing and he caught the first C8.R race at the Rolex 24 in January. He says he used to joke about buying a Yellow C7 Corvette to wrap in the Corvette Racing livery and when the 2020 Corvette showed up in Silver he said, "What the heck, let's wrap it!"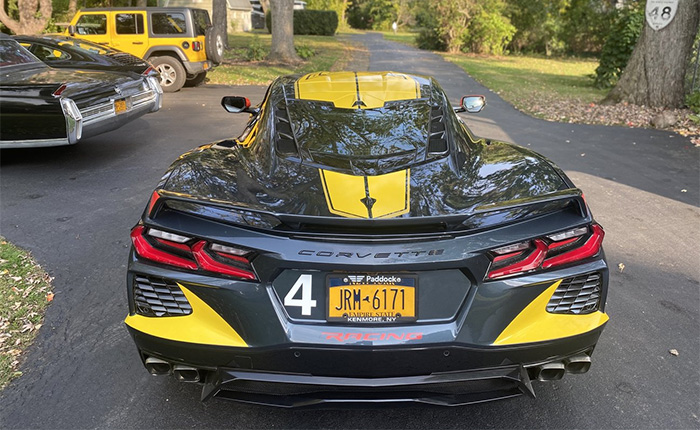 I asked him about the graphics on the car and he offered up this explanation of how it was done:
I have a lot of experience with wraps so it was a no-brainer. My primary vendor, Astley-Gilbert out of Oshawa Ontario was more than happy to lay it out for me. They thought it was fun too. We used the Daytona version and gave them position light position 1 (though #4 came in last at Daytona they fought hard to finish). It won Sebring so it deserves #1.

It was installed by Streamline Designs in Tonawanda NY, no problem getting wraps shipped cross border. I'll leave it on for a while hopefully we will be able to get into Daytona this year and maybe I'll tow the car around with me to there and Sebring. Should be a hit at car shows and bring attention to the true nature of the C8 – it is a factory-built street-to-track car. OK, it is not a C8.R, but a race car nonetheless. I'll probably also take it to some track nights in the area next year too.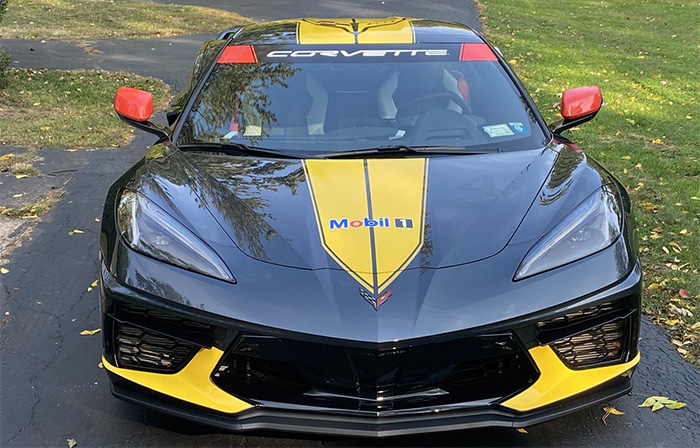 We agree that livery looks fantastic and while we've seen some Yellow C7.R recreations over the years, we love the fact Jimmie went this route with his Silver C8 Corvette.

Source:
Jimmies63 / CorvetteForum

Related:
Corvettes for Sale: 1963 Corvette Grand Sport Continuation Offered at Auburn Auction
Minnesota Man Builds a Speed Racer Mach 5 Replica from a Corvette
Chevrolet is Apparently Okay With Chinese Automaker's 1958 Corvette Knockoff