Photo Credit: CarNewsChina.com

General Motors apparently isn't upset enough over a just-unveiled clone of its C1 Corvette to take the Chinese automaker responsible to court.
A company named Songsan unveiled the "SS Dolphin" at the recent 2020 Beijing Motor Show, and you'd have to be blind not to see the attempt to mooch off the original first-generation Corvette design of the late 1950s and early 1960s.
Ordinarily, you might expect GM lawyers to be in full attack mode, but Kevin Kelly, Chevy's senior manager of car and crossover communications, told CarScoops in a statement that while Sonsang Motors didn't ask for permission to replicate the design of the original C1, "they are not using any of our trademarked names or logos, and the design is not identical to the C1."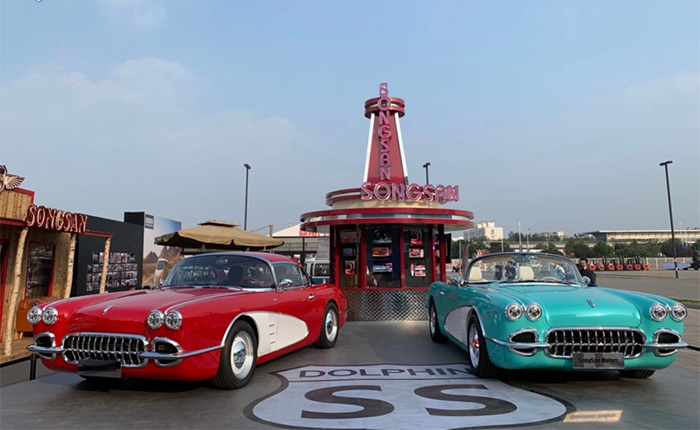 We'd have to agree with Kelly's assessment because to us, something about the SS just doesn't look right in the front and rear areas, not to mention the side scoop that seems larger than Chevy's effort. The windows and roofline are also much longer, which might translate into more room inside and make for a more comfortable experience driving the SS.
Of course, if you're going to try to market a hybrid vehicle, why not choose an iconic design like the C1 Corvette to deliver it to the public instead of the usual bland modern design? The SS Dolphin has a much more modern drivetrain, with a 1.5 turbo gasoline engine supplemented by an electric motor said to have a range of 56-62 miles with the 16kWh battery pack alone.

Overall, the two engines combine to produce 315 horsepower and 395 lb-ft of torque, enough juice to take the SS Dolphin from 0 to 60 in a respectable 4.9 seconds.
The interior is much different from the C1 as well, with a floating touchscreen and an all-digital dashboard among the amenities inside.
No word on how much this C1 wannabe will cost, but we're not sure it would be worth it. What do you think?

Source:
CarScoops.com

Related:
Tribute or Copycat? The SongSan SS Dolphin Makes Its Debut at the Beijing Motor Show
[PICS] The C8 Corvette is Given a C1 Makeover Complete with Chrome and Coves
Retired GM Designer Creates Future Concepts Based on Retro Classics