Great news to share today to those customers with a 2020 Corvette hardtop convertible on order. Our friend Mike Furman of Criswell Chevrolet shared these photos with us today on what might be the first customer-ordered C8 Convertible to arrive at a dealership.
We had just learned earlier this week that the first batch of 2020 Convertibles produced had cleared the quality control hold with some cars going to status 4000 (Ready to Ship) but apparently Chevy isn't messing around and immediately shipped the car to Maryland where it will hopefully delivered to a couple great friends of ours later this week.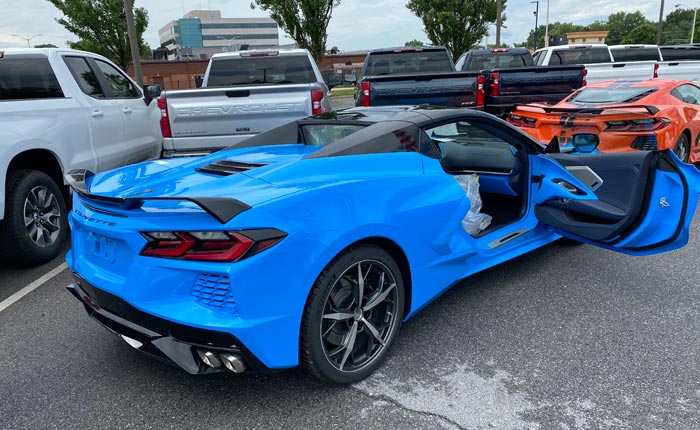 We are also happy to see this (first) C8 Corvette Convertibles was finished in the new Rapid Blue with black nacelles and black roof combination. Corvette Team members have told us that the assembly plant will be ramping up production of the HTCs which officially started down the line the week of August 3rd. Unlike the C8 coupes, they started with the new colors first!
Mike also grabbed us a quick walkaround video of the Rapid Blue Convertible and you can see the beautiful two-tone blue interior. We'll be looking for more from Mike once he documents the delivery of the car to its new owners. In the meantime, that's some serious eye-candy sitting on the lot at Criswell Chevrolet in Gaithersburg, MD.

Update:
One of our eagle-eyed readers told that a new Corvette Convertible was on display inside the National Corvette Museum. We found this Shadow Grey Metallic HTC parked on Corvette Boulevard under Delivery Camera 8: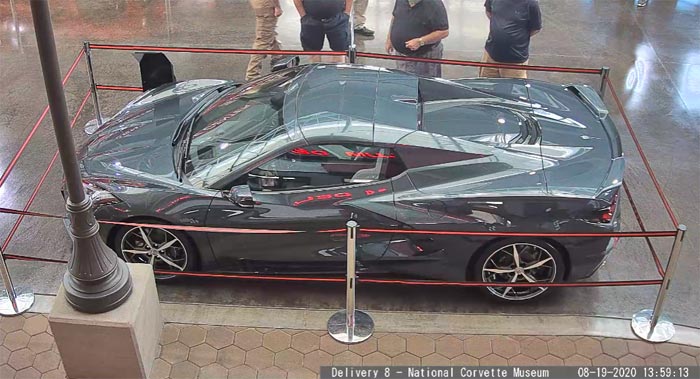 Source:
CorvetteFurman.com

Related:
2020 Corvette Convertible Production Officially Kicks Off Today
[VIDEO] Corvette Product Manager Harlan Charles Raises the Roof on a 2020 Corvette Stingray Convertible
[SPIED] 2020 Corvette Stingray Convertible on the Tail of the Dragon