Take a trip through the glorious past of Chevrolet in this three-minute video, but the takeaway might be that this 109-year-old automaker's best days could well be ahead of it.
"I'm really excited for the future of Chevrolet," says Darby Barber, exterior designer. "I think it's gonna be great."
The company got its name from Louis Chevrolet, born in Switzerland and the son of a famous watchmaker. He eventually wound his way to Paris, where he began working on his automotive skills, and then after saving up enough money came to America where in 1911 he and Billy Durant formed the Chevrolet Motor Car Company.

"Durant was the businessman, (and) Louis Chevrolet was the inspiration and the racer," explains Bob Krapes, director, truck marketing.
Krapes explains that the famous Chevrolet bowtie came about when Louis and his wife were traveling in France and saw a piece of wallpaper in a hotel that had an image of what the bowtie came to be. "So they brought that image into America and into Chevrolet," Krapes says, "and it's been with us since 1911."

The video is filled with images of past Chevy vehicles that have become icons in the automotive world, like the 1955 Cameo pickup truck, the '57 Bel Air, and the '63 Corvette Sting Ray.
No mention of Chevy, of course, would be complete without the iconic small-block V8 that made its debut in 1955 and "pretty much took over the hot rod scene," says Russ O'Blenes, director, performance and racing propulsion team.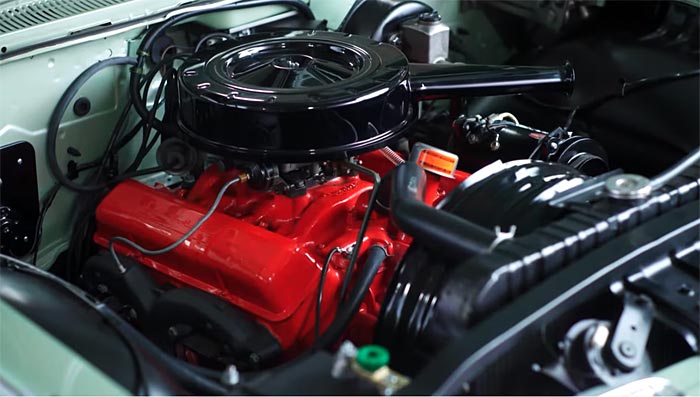 "It was a compact design and it delivered this amazing combination of power, reliability, and it was affordable," says Jim Campbell, vice president, performance and motorsports, "and that engine powered many of our Corvettes and Camaros and some of our pickup trucks."
Explains O'Blene: "Really what we were able to do was take these great production engines, slightly modify them maybe with a camshaft or upgraded carburetor, and then have a turnkey package that they could take and put into their hot rod and update them."
Krapes says the achievement of Chevrolet was a story of American ingenuity that influenced the culture of the country and created a passion among fans of the brand.
"We've got a great ingenuity story right now," he says, "if you think about the all-new mid-engine Corvette, a Silverado with a 3.0-liter Duramax Turbo Diesel that gets 33 miles to the gallon, and a Bolt EV that gets 259 miles of range."

Rob Mantinan, program engineering manager, says he has gasoline in his veins and couldn't imagine a future full of electric vehicles. "Once I got into it and I understood what we were doing, it just made so much more sense," he says.
Putting all that together with one car company, Krapes concludes, "is what I call American innovation." Corvette enthusiasts would no doubt agree with that assessment.

Source:
GM Authority

Related:
Chevrolet to Hold Virtual Fan Experience Celebrating its Classic and Current Vehicles
Today in Corvette History: The One Millionth Corvette Rolls Off the Assembly Line
[VIDEO] Evolution of the Chevrolet Corvette