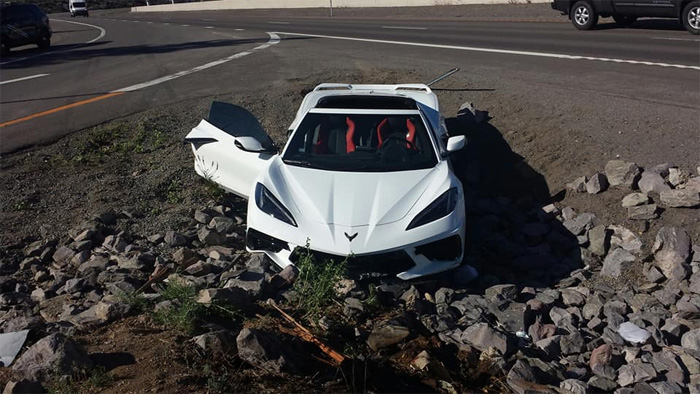 Photos of another wrecked 2020 Corvette are making the rounds after a number of photos were shared to a C8 Corvette Owner's Group on Facebook this week. The photos show the aftermath with the mid-engine sports car sitting in the proverbial "fork in the road" which, unfortunately, was covered by a large pile of rocks.
Already we are hearing some claim the cause of the crash as related to the C8's issues with understeer, but we're not really buying that.
Without too much of analysis, the driver appears to have been going a bit too fast to make the exit off the highway and most likely lost traction in the sand and debris that lined the roads and was ultimately stopped by the rock pile. The original poster of the Facebook appears to back that up with his comment about caused the wreck: "Story is passing on the right didn't see the exit hit sand locked them up and in she went.

As we always look for a silver lining in these situations, it appears the driver would have been okay and we don't see that the airbags were deployed. What's sad is the Arctic White Stingray was equipped with the rare 5VM Visible Carbon Fiber Aero Kit and that front splitter is what took the brunt of the impact. Hopefully, damage to the car is isolated to the front fascia. The 2020 Corvettes carry some large radiators in the corners of the car, but no telling if they were damaged in the incident.
Driving the mid-engine sports car will be a new experience to many former front-engine Corvette owners. We suggest that all new C8 Corvette owners should take advantage of the discount to attend the Ron Fellow's Performance Driving School at Spring Mountain where you can learn more about the driving characteristics of the 2020 Corvette Stingray.

Source:
C8 Corvette Owners (And Friends) / Facebook

Related:
Corvettes for Sale: Crashed C8 Corvette Looks Pitiful On Copart
[ACCIDENT] 2020 Corvette Grazed by a Motorcyclist Who Crossed the Yellow Line
[ACCIDENT] C8 Corvette Falls Off the Lift at a Chevy Dealership