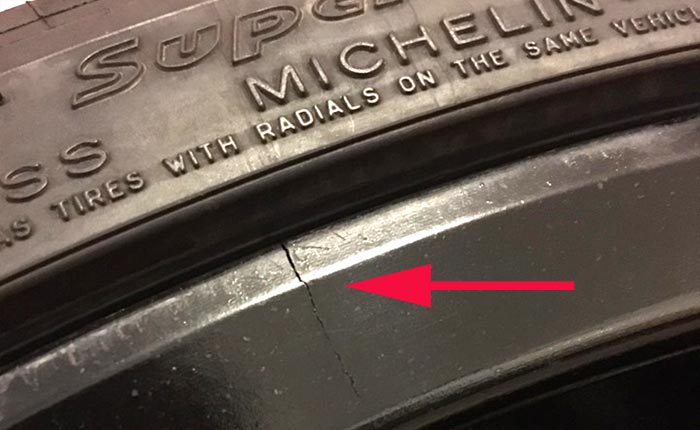 Photo Credit: Sonny Lenaers

It's been reported for years that some owners are experiencing problems with their wheels cracking on C7 Z06s and Grand Sports.
A Pennsylvania law firm is asking affected owners to contact them to take part in a class-action lawsuit against General Motors.
Kehoe Law Firm, P.C., says the class action has been filed in United States District Court, Northern District of California on behalf of owners of 2015-2019 Corvette Z06s and 2017-19 Grand Sports.
The suit alleges that the wheels "are prone to bending and cracking, necessitating costly repairs and replacements" and that such cracking "can puncture the tires, causing air leaks and tire blowouts."
According to the complaint, said defect is a result of making the rims out of a cheaper cast material instead of being forged, and also because GM used less material than necessary to try and save unsprung weight (or weight that is not borne by the cars' suspension), resulting in cracks under normal driving conditions because the rims are too weak.
The suit also argues that Chevy is systematically denying claims about the wheels made by owners during the three-year, 36,000-mile bumper-to-bumper warranty, forcing owners to pay thousands of dollars on their own to repair and replace the wheels.
Photo Credit: Sonny Lenaers

U.S. purchasers or lessees of either a Chevrolet Corvette Z06 (2015-Present) or Chevrolet Corvette Grand Sport vehicle (2017-Present) designed, manufactured, marketed, distributed, sold, warranted, and/or serviced by General Motors LLC are encouraged to contact Kehoe Law Firm, P.C. Michael Yarnoff, Esq., (215) 792-6676, Ext. 804, [email protected], [email protected], or John Kehoe, Esq., (215) 792-6676, Ext. 801, [email protected], to discuss potential legal claims.
Numerous stories about wheel cracking problems have been posted for years on Corvette Forum. Car & Driver magazine even reported that it had to replace or repair six damaged wheels over the course of its 40,000-mile test period with a 2017 Grand Sport.
In 2017, Corvette Chief Engineer Tadge Juechter weighed in on the subject with the following response to an Ask Tadge question on the Corvette Forum:
"A frequent sequence of events is that a wheel gets bent by a road hazard but the damage is initially almost undetectable to the driver. Maybe the driver notices a little more vibration, but many times not if the wheel is only slightly out-of-round (just a millimeter or two). A wheel that is not perfectly round puts stress in the rim that varies with each wheel rotation. Over time fatigue cracks can form after thousands or even millions of cycles. The wheel doesn't look any different but begins to leak air at the rim. Since it is hundreds or thousands of miles after the damaging event, the driver often can't remember hitting anything that would justify a crack in the wheel. I have actually experienced this myself."

Source:
Kehoe Law Firm

Related:
Another Lawsuit Filed Against GM Over Cracked Corvette Wheels
Federal Judge Allows Class-Action Lawsuit Over C7 Z06 Cooling Issues to Move Forward
Class-Action Lawsuit Filed Against GM Over Alleged Defects with its 8-Speed Automatic Transmission