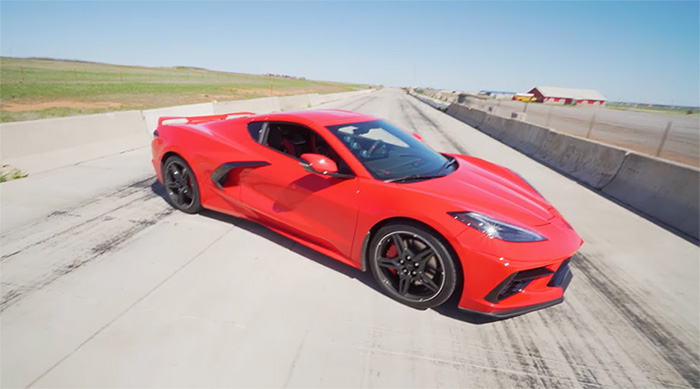 We've been enjoying the videos from 19-year-old YouTuber named Speed Phenom and this week he picked up his 2020 Corvette Stingray! In this new video, he shares some of the best moments from his cross-country journey back to the west coast and along the way we see his odometer reset after he 500-mile break-in period has been reached.
But what really has us enthused his how he is able to consistently launch the car in under 3 seconds. Speed Phenom takes us through the different settings he used to time his 0-60 mph runs and then runs through the process to set the car into launch control.
As he is making is his journey across America he comes across an actual drag strip where he can test the launch control even more and that's when he scores his best time at 2.8 seconds. His enthusiasm and excitement for the car are turned up to 11 and when he gives a ride to a local at the track, you can see how much fun it is to share the Corvette's performance and style with others. Videos like this make us more excited for all you that are getting the new C8 Corvette.
From Speed Phenom on YouTube:
Here is the secret mode that allows my C8 Corvette to launch and accelerate from 0-60 in just 2 seconds! THIS SUPERCAR IS INSANE!

Source:
Speed Phenom / YouTube

Related:
[VIDEO] Go Behind the Scenes with the VIN 001 2020 Corvette Auction at Barrett-Jackson
[VIDEO] Watch the West Coast Reveal of the 2020 Corvette Stingray Convertible
[VIDEO] YouTuber Catches First Ride in the 2020 Corvette Stingray Convertible to Cars and Coffee