Crystal Red Metallic (L) and Long Beach Red (R) with the Red Mist Color Chip

Over the weekend, we brought you the news that two new colors are coming to the 2021 Corvette. One of those new colors is called Red Mist Tintcoat and will be replacing Long Beach Red which first appeared on Corvettes in 2016. The good news is that we believe we have found a color chip of it from an automotive touch-up paint retailer.
The RPO code for Red Mist Tintcoat is GPH and according to Automotivetouchup.com, it's name has been revealed as Tactical Pearl 1. As we have discussed before, all GM exterior colors have two names, the actual color name and then the marketing name like Red Mist. At this point, we are unsure if the Tactical Pearl is the actual GM name for the paint or if it's the marketing name for the color on the 2021 GMC.
As we have heard through various channels, this is a new color to GM and the tough-up paint site describes it as a 2021 color for GMC. Here is the color chip for Red Mist (GPH)

As was rumored, the new dark red color appears to be very close to two of our favorites from Corvette's past. Magnetic Red and Crystal Red Metallic. Magnetic Red was used from 1999-2002 and then it came back as Magnetic Red II from 2004-2005. Crystal Red Metallic had a long run and was featured across both the C6 and C7 generations as it ran from 2008-2015. Below are examples of Magnetic Red, Magnetic Red II, and Crystal Red Metallic: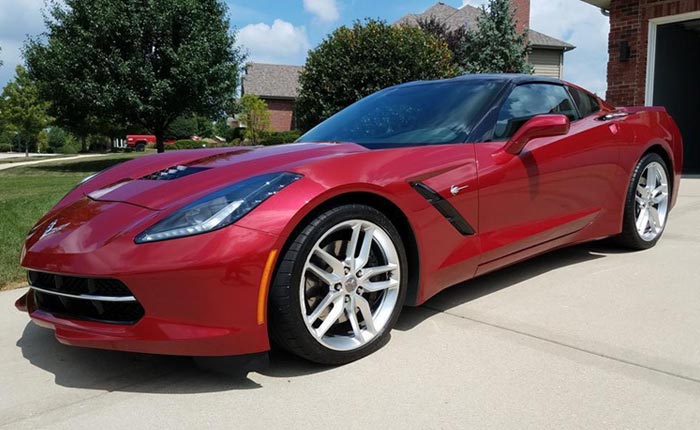 And here is the outgoing Long Beach Red on the 2020 Corvette Stingray:

Long Beach Red was one of four colors in the 2020 Corvette color wheel that required an extra cost and in fact, Long Beach Red and Sebring Orange are the two most expensive paint options which added an additional $995 to cost the car. We'll find out in May if there will be an extra cost for Red Mist.

Source:
Automotivetouchup.com

Related:
2021 Corvette Options and Two New Colors Leaked
[PICS] 2016 Corvette Z06 in New Long Beach Red
New 2016 Corvette Colors Revealed!