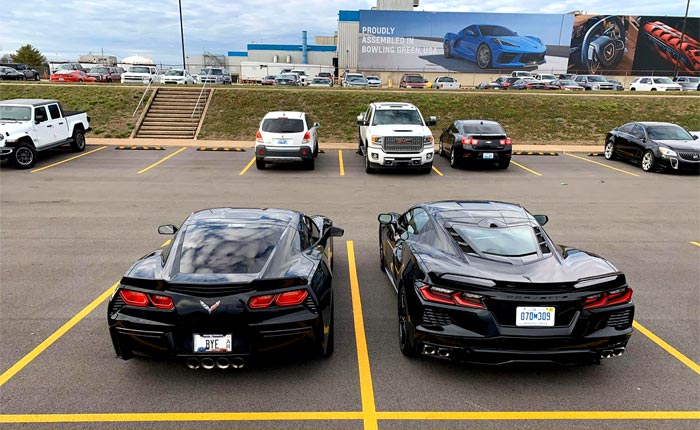 Here's something you don't see every day! Well, at least not yet anyway. But soon!
Sebastian Pietrzyk was cruising by Corvette assembly plant in his Black C7 Corvette Stingray when he came across a Black C8 Corvette in the parking lot. So like any good Corvette enthusiast, he stopped to take a bunch of comparison photos showing the two Black Vettes together and then shared them on the C8 Corvette Owners Page on Facebook.
It's one of the first photoshoots we've seen of the new Corvettes parked side by side with the previous generation. We've been exposed to the new Corvette for quite some time but it's apparent that the C7's DNA shows in the new mid-engine Corvette despite the fact they are so different.
Black has been one of the most popular colors on Corvettes over the last several generations although it lost its crown to Arctic White in the later C7 model years and we think that trend will continue as buyers go with colors that show the C8's contrasting black exterior trims.
In fact, last month we looked a sample of 240 C8 Corvette orders and Black was coming in tied at #4 with Shadow Gray.
Check out these photos of the Black C7 and C8 Corvette together at the plant:

I will say that C7 Corvette owners have something going for them that previous generation owners didn't and that is the modern look of the front-engine Corvette stops with that model. The C7 Corvette has always presented itself well, and it will be some time before the car looks dated.
As the owner of two black vehicles, one a Corvette and the other a daily driving SUV, we know that it takes a special owner to keep up with the dust to ensure the ride looks good at all times. Because there is nothing worse than driving around in a dirty black Corvette!
Thanks again to Sebastian Pietrzyk for sharing these photos!

Source:
C8 Corvette Owners Group

Related:
[VIDEO] Here's A Black C8 Corvette Z51 Start Up and Exhaust Note For You This Sunday
[SPIED] A Gathering of C8 Corvettes in Bowling Green Features a Black Coupe with Silver Stripes
[GALLERY] Black Friday! (30 Corvette photos)