The National Corvette Museum just announced the return of their Photo Album Program that documents the build process of YOUR Corvette order at the Bowling Green Assembly Plant! My 2020 Corvette order is scheduled for build the week of February 3, 2020, and I just submitted an online order for the photo album that will forever commemorate the assembly of my 2020 Corvette. While the Buyer's Tour option is not likely to be available until later this spring, it's exciting that the Photo Album is now available for order.
Having personally ordered the NCM Photo Albums to preserve the build process of my wife's 2015 Stingray and my 2017 Grand Sport, I am 100% sold on the value of the Photo Album. The photos that are included with this article are photos taken of my 2017 Corvette Grand Sport Assembly Photo Album.
Each Photo Album is $700 and covers the cost for someone to follow your specific Corvette build down the assembly line over the course of two to three plant shifts as well as the professional compilation of these photos on high-quality photo paper in a beautiful 15″x12″ padded leather 20 plus page album.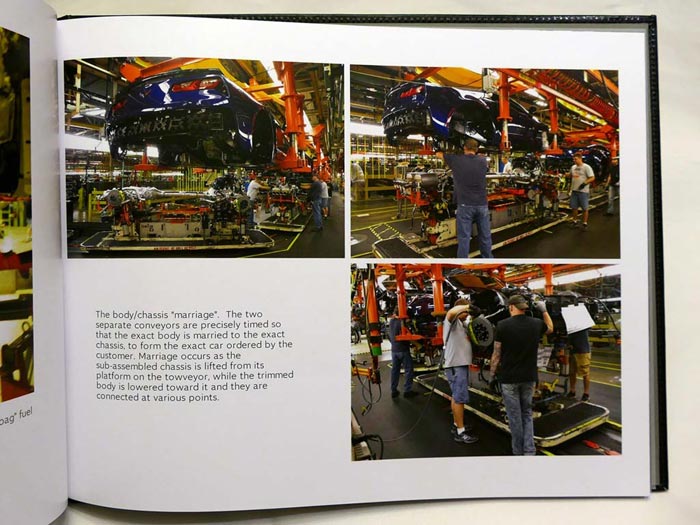 Within each album, you'll find no fewer than 20 pages of text and photos that capture the build process of your Corvette, a letter of authenticity, a letter from the Bowling Green Assembly Plant Manager, a letter from the NCM's Executive Director, and blank pages for autographs. You will receive your photo album approximately eight weeks after the assembly of your Corvette.
You can order a Photo Album once you have a GM Order Number for your Corvette. Keep in mind that orders must be placed at least 10 days before your Corvette's scheduled build date.
If you are ready to order your 2020 Corvette Assembly Photo Album, you can do so online at https://www.corvettemuseum.org/visit/delivery-programs/photo-album/
For additional information, you can contact Museum Delivery Program Manager, Shane Webb at [email protected] or call (800) 205-4248/(270) 777-4505. Lori Bieschke can also assist and can be reached at [email protected] or call (800) 205-4248/(270) 467-8851.
Here are a few selected pages from the photo book documenting the build of my 2017 Corvette Grand Sport:

Source:
National Corvette Museum

Related:
Definitive List of C8 Corvette Accessories that Can Be Installed for the NCM R8C Delivery Program
Corvette Museum Featuring the Work of Ed 'Big Daddy' Roth
Chevrolet Completes C7 Corvette Production As Final 2019 Models Roll Off the Assembly Line