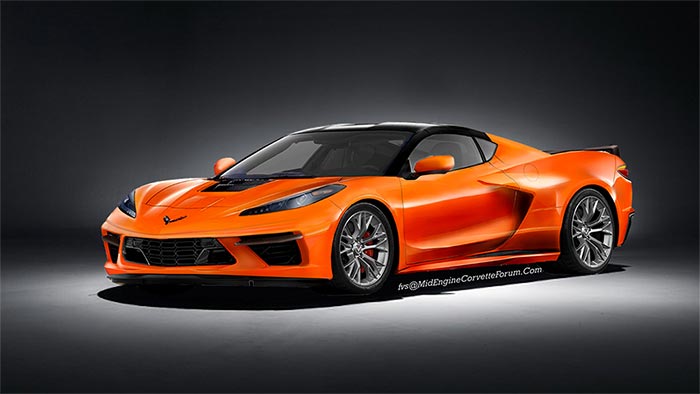 The first C8s for customers haven't even been built yet, but the rumors are flowing about even higher-performance models of the mid-engine Corvette.
Now comes apparent confirmation that the top-of-the-line ZR1 model will become the first all-wheel-drive Corvette ever, featuring a hybrid system to increase performance.
MotorTrend reported last week that a senior General Motors official confirmed that the ZR1 will build on the Z06's all-new twin-turbo flat-plane-crank dual-overhead-cam V8 to fill in torque gaps and raise horsepower to a whopping 900!
We're pleased to hear that unlike some competitors' systems that are engineered to travel short distances under solo electric power to help meet emissions regulations in some countries and cities, the forthcoming ZR1 will focus strictly on upgrading performance, not gas mileage, similar to the way the Ferrari LaFerrari does.
MotorTrend speculates that the ZR1 could feature an electric motor between the engine and transmission to reach its horsepower goals, or perhaps could use space in the frunk to hold two front-mounted electric motors that would increase performance and perform active torque vectoring to complement the rear axle's electronically controlled limited-slip differential (ELSD).
Writes MotorTrend: "This first-of-a-kind all-wheel-drive ZR1 could see major benefits in handling and the ability to put down power while exiting corners. This is a strategy that's been employed to great effect on other hybrid supercars like the Porsche 918 Spyder."
The magazine has previously reported that the upcoming Z06 would feature a V8 based on the C8.R race car's engine, but they're unsure if the ZR1 would use the same 5.5-liter displacement because it might vibrate too much for customers. They note past rumors have put the displacement as low as 4.2 liters. Regardless, MotorTrend has been told by sources that the Z06, C8.R, and ZR1 engines won't be a variation of the Cadillac 4.2-liter Blackwing V8 but will stand on their own under an old agreement that guaranteed Cadillac and Chevrolet separate funds to simultaneously design two different DOHC V8s.
MotorTrend didn't offer any information on the proposed cost of the ZR1, but we feel confident in saying it won't be under $60,000. LOL. Seriously, though, it should be well below the $928,000 commanded by the Porsche 918 Spyder and the $2 million to $4 million on-line estimates for the LaFerrari.
We have no doubts the ZR1 (hopefully to be called the Zora) will be an awesome car that will take the Corvette legend to performance levels Arkus-Duntov couldn't even imagine, but we'll stick with the good ol' Z51 that can go 0-60 in 2.8 seconds. The Porsche 918 Spyder covers that distance in 2.2 seconds and the LaFerrari in 2.4 seconds, but is it really worth an extra million or two bucks to get there 0.6 seconds or 0.4 seconds faster?

Source:
MotorTrend.com

Related:
[RUMOR] C8 Corvette Z06 Will Have a Flat-Plane Crank Twin Turbo V8
More C8 Mid-Engine Corvette Rumors Regarding Engine Names
Corvette Body Spotted at GM Battery Lab Powers Rumors of an Electric 'Vette