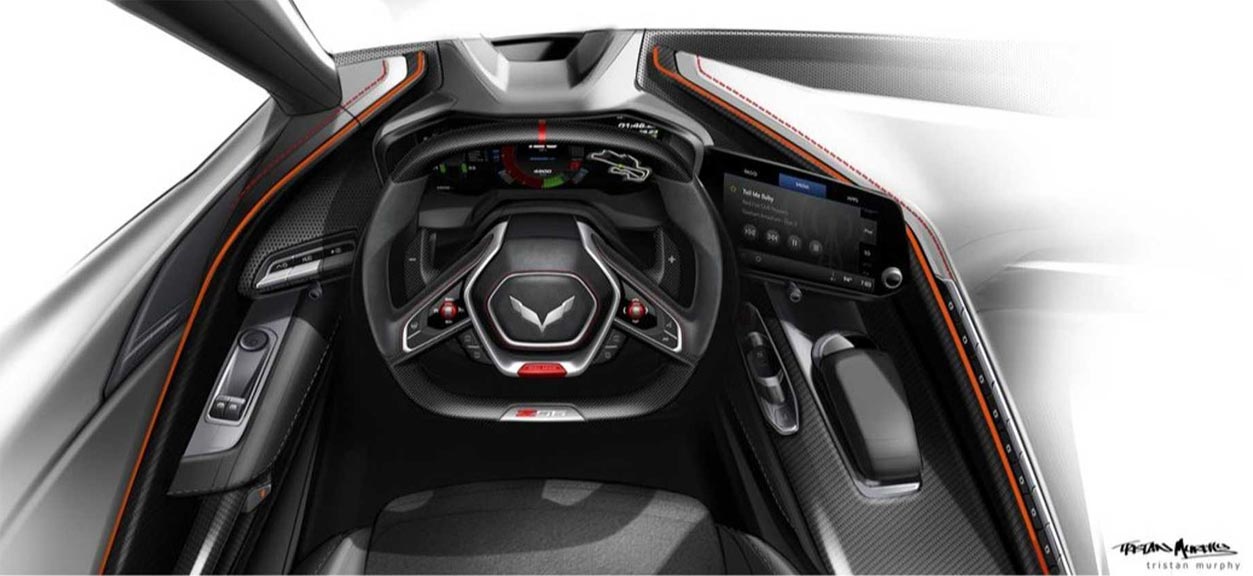 Our friends on the Corvette Team note that Corvette enthusiasts are never satisfied with what they have and are always wanting to know "What's next?". If history is any indication, that question will be answered by a C8 performance model called the Z06.
It's almost a given that Chevy will stick with the Z06 name and seeing the logo on this early design sketch by C8 interior designer Tristan Murphy reinforces that opinion. The sketch was part of a collection of early C8 designs that were shared by the automaker with CNET's RoadShow.
The most notable change in our opinion is the amount of carbon fiber. The steering wheel shows visible carbon fiber pattern on the upper and lower portions and the paddle shifts behind the wheel are also done in the lightweight material. The carbon fiber also covers the center console and driver's armrest.
We don't have the greatest look at the dash cluster but you can clearly see the track map outline on the right. We are told that its the Mugello Circuit in Italy. Roadshow also reports being able to zoom in to see the cluster reading "ARM".
Another interesting feature is the button under the cross flag emblem on the steering wheel that says "SPEC MODE". As there is no Z-Mode button like we see on the C8 Stingrays, perhaps this was an earlier render that predates that programmable driver mode.
Roadshow says that Chevrolet told them that the interior image is "an early render of a potential interior." "We go through several proposals as we select final interiors and this was one of the proposals," the Chevy rep added.
While it's believed the Z06 will be the next model in the C8 series to be released, there is currently no official word on when that may be. 2020 Corvette Stingray production has been pushed back to a February start due to the GM strike, most watchers think Chevy will have the 2021 models out this fall. Whether or not the Z06 will be part of the model line-up by then isn't known but our best guess is to start looking for the car as a 2022 Corvette.

Source:
CNET Roadshow

Related:
The Corvette C8.R, Homologation Rules, and the C8 Corvette Z06
[RUMOR] C8 Corvette Z06 Will Have a Flat-Plane Crank Twin Turbo V8
[SPIED] Are These Prototypes the C8 Corvette Z06 in Disguise?