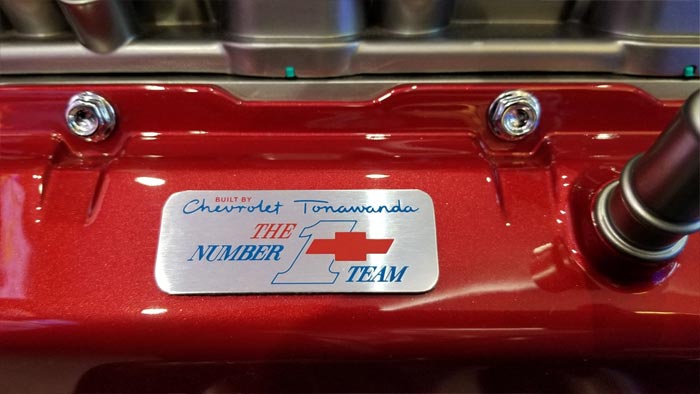 Back in July we shared General Motors' announcement that the Tonawanda, NY engine plant would produce the 495hp LT2 engine for the 2020+ Corvette.
During that July press conference in New York, Mark Ruess mentioned a "Tonawanda Pride" sticker that would adorn the rocker covers on each LT2. Earlier this week we gained some more insight about that throwback sticker during Chevrolet's Powertrain Briefing at their Performance and Racing Center.

Small block Global Chief Engineer Jordan Lee shared a recap of that sticker's inception. You see, it turns out Mark Ruess wasn't even supposed to be there that day for the press conference and surprised all with a last-minute appearance. The sticker came to be rather impromptu when Ruess mentioned to Lee about 30 minutes prior to the presser that he wanted a "pride sticker" on each engine and that he was going to announce that during the upcoming conference. Ruess got the idea after seeing one online while restoring his own classic Corvette. This sticker detail hadn't been discussed amongst the development team before and Jordan Lee's team then had to scramble and ultimately came up with a preliminary design within a few hours.

Late in the day Wednesday as the Powertrain Briefing was wrapping up, we got our first look at the Tonawanda sticker and its location on the LT2. The layout and design are nearly identical to the decal seen on C2 and C3 big blocks from the late 60's and early 70's. A nice nod to Corvette's past, indeed.

Source:
Chevrolet.com

Related:
[GALLERY] Chevrolet Shares Additional Details on the 2020 Corvette Stingray's Powertrain
OFFICIAL: The 2020 Corvette Stingray Goes 0-60 MPH in 2.9 Seconds; Runs Quarter Mile in 11.2 @ 121 MPH
GM's Tonawanda Powertrain Facility to Build the LT2 V8 for the 2020 Corvette Stingray