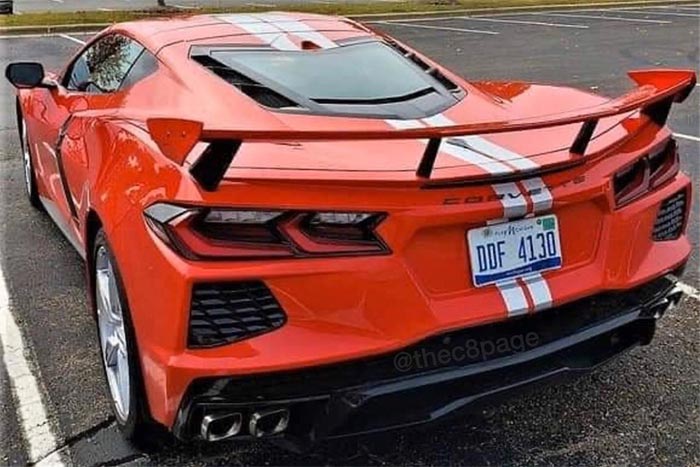 I sometimes get some weird emails from you peeps and yesterday, it was demanded that I show more pictures of the 2020 Corvettes wearing the High Wing, whether I like it or not!:
I WANT TO SEE WAY WAY MORE HIGH WING CORVETTE PICTURES THEIR TRENDING WETHER [sic] YOU LIKE IT OR NOT
Not that I've ever spoken out against showing the High Wing option. And why are you shouting at me? Anyway, we are able to accommodate RB's request for more High Wing pics after this one came to our attention on social media.
For just the third time, we are seeing a 2020 Corvette Stingray wearing the High Wing option on the rear deck. I believe it's also the first time I have seen a real car with the full-length racing stripe package.
We came across the photo via theC8page on Instagram.
At first I thought we had scored the first pics of a High Wing on a Sebring Orange car. But then I remembered that the body color High Wing option (5ZU) is only available in four colors: Shadow Gray, Arctic White, Black, and Torch Red. So perhaps the original poster used a filter or something when uploading the pic to the 'Gram as this Corvette should be Torch Red.
The Stingray looks to be riding on a set of bright Silver wheels and so we think the racing stripes were also done in Sterling Silver (DUB) to match.

As mentioned above, this is only the third time we've spied the High Wing on a car. That previous sighting was just last week and that Torch Red Coupe also showed off the fender hash marks for the first time. Now if we could only see a new Stingray wearing a full carbon fiber aerodynamics package!

Source:
TheC8Page / Instagram

Related:
[PICS] High Wing and Hash Marks Featured on This 2020 Corvette Stingray
[SPIED] 2020 Corvette Stingray's High Wing Seen in Public for First Time
More Info on the High Wing Option for the 2020 Corvette Stingray