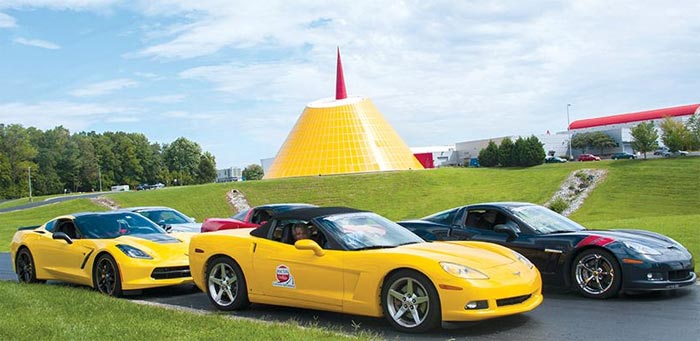 Over 10,000 Corvette Owners to Convene in Bowling Green, KY August 29-31, 2019
It's hard to believe five years have already passed since the 2014 National Corvette Caravan, but it's time for another milestone event to mark the 25th anniversary of the National Corvette Museum next month!
This year's Caravan is expected to draw more than 10,000 Corvette owners during the three-day event, set for Aug. 28-31 in Bowling Green, Ky.
And no doubt, one of the most popular attractions at the Caravan will be General Motors' 2,500-square-foot interactive mobile showroom that will give many folks their first in-person look at the exciting new 2020 mid-engine Stingray.
Attendees will get to see at least two new Stingrays in person, along with a display that showcases all the pertinent information about the eighth-generation Corvette, like the 12 paint color options, wheel finishes, colored brake calipers, Michelin tire options, nine interior schemes, three seat designs, six seat belt colors, and more.
Important note: You must be registered to visit this C8 display. While pre-registration ended on July 11, you can still register on-site starting Tuesday, Aug. 27 – $35 for Lifetime Museum members, $45 for Members, and $70 for Non-Members for the three-day event.
The Caravan has been called the world's largest moving automotive event, and it's definitely a blast for Corvette owners and members of the public who happen to see the long lines of 'Vettes doing what they do best – motoring down America's roads.
"It's a spectacle, especially for those unsuspecting motorists who get to experience a leg of the Caravan pass them by," said Katie Ellison, Director of Marketing and Communications for the NCM. "We are fortunate to have loyal Corvette enthusiasts who serve as volunteer captains for this massive event. They spend years coordinating their trek across the country, planning fun stops along the way."
Besides getting to see the new C8, attendees will be able to take part in three days of exciting Corvette-themed events, including a kickoff fireworks show and concert by Jefferson Starship on Thursday, Aug. 29, with a Journey tribute band opening the show at 5 p.m. CT. While the concerts are included with Anniversary event registration, the general public can also attend at a cost of $25 for general admission tickets available on the Museum's website.
Also on tap are touring laps at the NCM Motorsports Park, seminars by GM/Corvette designers and engineers, Michelin, Mobil and others, themed dinners like a "Party Like It's 1994" mixer, demonstrations and walk-around talks with the 1953 and V-12 Falconer Corvettes, and the 2019 Corvette Hall of Fame induction ceremony.
GM Certified Corvette Technicians Paul Koerner and Brittany George will be on-site, offering walk-up assistance and seminars, and vendors, including Xpel, the official paint protection and window tint provider of the event, will offer installation services. The Corvette Store will welcome more than a dozen Store Partners, offering an array of wares, apparel, car care products, art, aftermarket parts and more. Thanks to several of the Bowling Green hotels, carnival-style activities will be available, including mini-golf, for registered guests to participate in.
"We want visitors to experience the unique offerings in our area, so many attractions are hosting their own special activities," Ellison added. "For example, Boyce General Store's 'Pie Queen' (Brie Golliher) is hosting a pie-making class where guests can learn how to make one of her tasty creations. She and husband, Brad, are also hosting one of their ever-popular fish frys, complete with live Bluegrass music."
For all the details, visit corvettemuseum.org and corvettecaravan.com and follow the action on social media at #caravan2019.

Source:
National Corvette Museum

Related:
[VIDEO] Come See the 1969 Corvette Manta Ray Concept at the Corvette Museum
Register Now for the Corvette Museum's 25th Anniversary HPDE at the Motorsports Park
National Corvette Museum Introduces New President and CEO Dr. Sean Preston