I recently was turned on to a pretty good Corvette marketplace on Facebook called Corvette Buy Sell & Trade. There have been some interesting Corvettes come up for sale lately, but none compare to this "Facebook find" that we first covered in 2007: The pilot car for the RPO 579E 1957 Corvette "Airbox".
The following write up was posted by Roy Julier on the Facebook group and we have since learned that the car is part of the racinghalloffamecollection.comRacing Hall of Fame collection. A contact email for questions or more information has been provided.

1957 Pilot Car "Airbox" Racing Corvette
$900,000
Ormond Beach, Florida
Only 43 of these 1957 'Airbox' racing-model Corvettes were produced by Chevrolet and now fewer than half of them are known to exist today. But what makes this car much more significant than the other 42 is, this "Airbox" car was the first prototype, or "pilot car," used to produce all of the subsequent Corvettes in that 1957 line.
This meant only this car had unique parts that wouldn't be found on any of the other 'Airbox' Corvettes, making it truly one of a kind. It has been said that this car is so rare that even the most-dedicated Corvette enthusiasts would have never seen anything like it before.
The history of this car over the years is very sketchy. Bill Howe took delivery of the car with the soft top, courtesy light and whitewall tires option; the "frills" however were removed prior to the car's first race. Howe only used the car as a race car. It is then presumed that Howe returned the car to its 'factory order' status to make the car easier to sell off at his dealership lot at the end of the race season.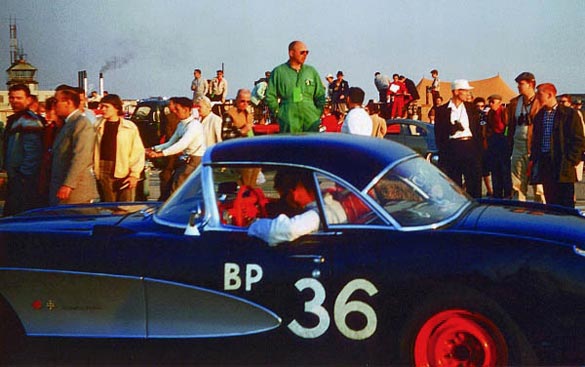 After the car was sold on, its life and whereabouts become completely unknown. Until we fast forward to 2003, where two car restorers Bill Connell and Joel Lauman got a lead on a rare 1957 Corvette that was parked inside a barn on a pig farm outside of Trenton, Ohio. They were told it had been sitting there for over thirty years. The two were familiar with the history of the car and its original owner, car dealer and race driver Bill Howe and that he had raced the car in 1957.
While Connell was convinced that this car was a true 'Airbox' Corvette, it wasn't until they made the deal to take the partially disassembled car back to the repair shop then carried out some further inspections, that they found the car in front of them could be something really special. As work began on the car, the restorers contacted and brought in noted Corvette historian and Chevy V8 fuel injection expert Ken Kayser to inspect the car. Kayser spent two days on researching the Corvette, upon which he proclaimed that not only was the 1957 Corvette was indeed an original airbox Corvette but more importantly it was the pilot/first car of the 43 that were produced.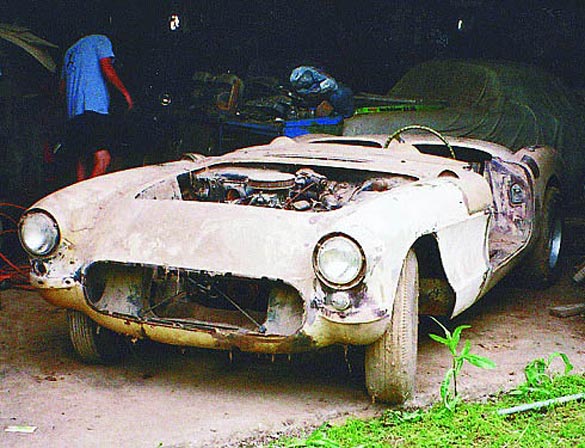 Restoring the 1957 Corvette to its original glory took over two years and more than 1,500 hours. Fifty years and five months after Bill Howe took delivery of number "4007", the Corvette was completed in 2007. Bill Connell and Joel Lauman commented on their hog farmer's barn find to like "finding a Picasso in your attic."
What makes this 1957 Airbox car different from other 1957 Corvettes?
All 1957 fuel injected Corvettes have an air cleaner attached directly to the air meter. Fuel injection units do not like heat, and all of the 1957 fuel injected engines (except for the first 43 cars) drew in hot air coming directly from the hot engine compartment. The 43 fuel injected cars which were built with an "Airbox" in 1957 had a somewhat crude, practically hand laid up, fiberglass ductwork attached to the left inner fender and a hole was cut into the left side of the radiator support to allow air into the ductwork. All of these first 43 cars were built with heavy duty everything (translate factory-built race car), brakes, suspension, special steering, no radio, no heater, wide wheels. fuel injection and heavy duty shocks. The Airbox cars had a special 8000rpm plain face tachometer mounted on top of the steering column. The mounting bracket/housing for this car is a one of a kind bracket, whereas the remaining Airbox cars had a totally different mounting bracket. Somewhere along the line, the term "Airbox" was tagged to these first 43 cars, and it stuck.
This car was the very first off of the production line with this configuration as well has having the additional unique prototype parts.
This car is one of 50 cars inducted into the Corvette hall of fame it has won many best of show concourse awards. It has been featured in many books, magazines, internet websites and forums. It has its own section in the black book 'Corvette Bible', The History of GM's fuel injection development and racing pedigree by Ken Kayser.
The second of the 'Airbox' cars with without the unique parts that this first car has and much less race history recently sold at 2017 Monterrey auctions for $825k + commission.
This original first 1957 Pilot "Airbox" Corvette is priced at $900,000 USD. For more information, please email [email protected].

Source:
racinghalloffamecollection.com

Related:
Rare 1957 "Airbox" Corvette Found & Restored to Former Glory
[VIDEO] 1957 "Airbox" Corvette Sells for $290,000 at Mecum Dallas 2013
Rare 1957 "Airbox" Corvette Found & Restored to Former Glory