Photo Credit: Jeremy Welborn

Now that the 2019 Corvette Configurator is up and running, one of the small print details caught our eye today.
Back in 2009, the C6 ZR1 introduced Corvette owners to the Federal Government's gas guzzler tax, which was established in the Energy Tax Act of 1978 to discourage the production and purchase of fuel-inefficient vehicles. In 2009, the tax was computed at $1,300 for the Corvette ZR1's 638 horsepower engine which had a fuel economy rating of 14 mpg city and 20 mpg highway.
Now, ten years later there is a new Corvette ZR1 on the market and that small print on the Corvette configurator has the gas guzzler tax listed at $2,100! That's $800 more than the current $1,300 gas guzzler tax on the 650-horsepower C7 Z06 equipped with the 8-speed auto.
The 755-horsepower LT5 engine for the 2019 Corvette ZR1 is a new engine in GM's power portfolio and there many different ratings and tests that GM has to go through to certify it for sale.
Photo Credit: Jeremy Welborn

So far, Chevrolet hasn't released the official fuel economy ratings and a quick check of the EPA's fueleconomy.gov lists four Corvette engine configurations, but the ZR1's LT5 is not listed there yet either. The site does show the mpg ratings for the 2019 LT4 and LT1 engines in the Z06 and Grand Sport/Stingray.
We are also waiting on the official performance numbers from the Corvette ZR1 as well and would think that all this info is coming real soon as Chevrolet will begin building the Corvette ZR1s next week.
As I put these figures together, I had a thought. Since the official numbers haven't been published yet, I wonder if GM knows this is going to the tax moving forward or if they are just hedging until the actual fuel economy figures are released. We'll have to wait and see…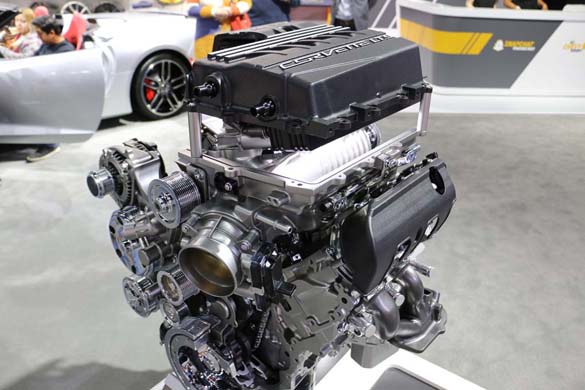 Just for kicks, I pulled up some of the current muscle and sports cars that are subject to the gas guzzler tax. As mentioned the Z06 (automatic) comes with a $1,300 gas tax. The Dodge Challenger Hellcat comes with a $1,700 tax and the current Ford GT comes in at $3,000!
So in terms of these fuel economy scofflaws, the 2019 Corvette ZR1 is in some pretty good company!

Source:
Chevrolet.com

Related:
The 2019 Corvette Configurator For All Models Including the Corvette ZR1 is Now Online
Elkland Chevrolet Offering the First Production 2019 VIN 001 Corvette Grand Sport Coupe
[VIDEO] All 2019 Corvettes Now Factory-Filled with Mobil 1 0W-40 Motor Oil
Download the 2019 Corvette Playbook