It's time to start building your dream Corvettes!
We got an email this afternoon from a reader named Mark letting us know that Chevrolet's official Corvette Configurator is now online with all 2019 Corvette models including the Corvette ZR1!!
Click here to launch Chevrolet's "Build Your Own" Configurator at www.Chevrolet.com.
So right away I hit the configurator and launched the Build Your Own 2019 Corvette ZR1 to see what kind of dream Corvettes I could build.
On my first pass, I set up the car in the way I imagine many customers would be ordering. I configured a Torch Red Coupe with the 3ZR trim level, the ZTK Performance Package, and the base 7-speed Manual Transmission. I went with the black interior and added the Competition seats and red stitching. The only accessories were the battery protection package and the fitted car cover.
When completed, I was looking at $134,730 plus the $1,095 destination fee and a whopping $2,100 for the gas guzzler tax for a total MSRP of $135,825.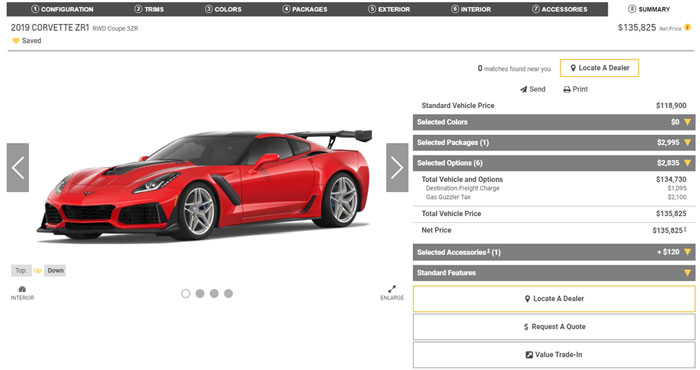 After that build, I reset the configurator and set out to build a loaded ZR1 Convertible with the Sebring Orange Design Package.
In addition to the Design Package which requires the 3ZR trim package, I also added an 8-speed Automatic Transmission, the Corvette Engine Build Experience, and the R8C Corvette Museum delivery. Some of the additional accessories included the wheel locks, battery protection, and the fitted car cover. I did stay away from the customer Corvette luggage though lol.
That price came out at $151,210 plus the $1,095 delivery fee and the $2,100 Gas Guzzler tax for a total MSRP of $152,305:

I could be here all day and in fact, just after I post this, I am going to make a pass through the Grand Sport configurator to build what I would like to have in a Corvette made just for me! All four models from Stingray to ZR1 are now online to build so head over to Chevrolet.com and create your dream Corvette today.

Source:
Chevrolet.com

Related:
Elkland Chevrolet Offering the First Production 2019 VIN 001 Corvette Grand Sport Coupe
[VIDEO] All 2019 Corvettes Now Factory-Filled with Mobil 1 0W-40 Motor Oil
Download the 2019 Corvette Playbook